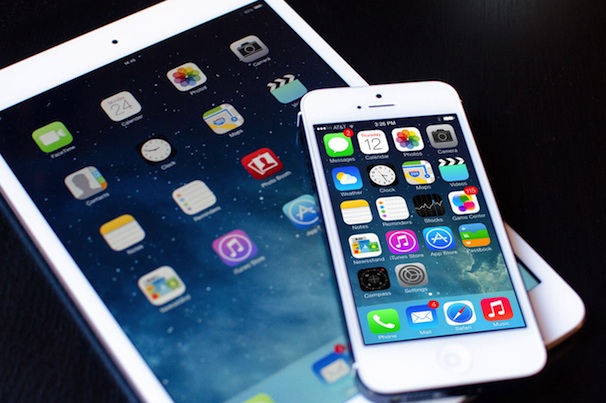 The stock Safari browser on iPhone or iPad provides a great web browsing experience to iOS users however despite the improvements brought to it by iOS 7 there are still many features that are missing from it. If you are hungry for more features or are simply looking for something more than what mobile Safari offers then look no further then the top Safari alternatives for iPhone or iPad listed in this post. We have gathered some of the best Safari alternatives that are available through the App Store, which pack amazing features missing from mobile Safari.
Google Chrome

When Google Chrome debuted on the iOS platform it was an instant hit and took no time for it to top the App Store charts. If you are looking for a Safari alternatives then this is the browser you should be trying first. From seamless syncing between desktop and iOS to features like voice search, private browsing, built-in translate and more Google Chrome has what it takes to fully become your default iOS browser. It also has the 'Data Savings' feature that reduces the amount of browsing data to up to 50 percent, which helps a lot when you are using cellular internet. Google Chrome is available for free and universally supports all iOS devices.
Opera Coast

Opera Coast recently received a major update that made it compatible with iPhone in addition to iPad. The browser also gained some new features that make it even better. Opera Coast features a simplified home screen, recent sites feature, share menu, curated suggestions by Opera's team, iCloud syncing, ability for users to change backgrounds and more. You can download it for free from the App Store.
Atomic browser

Although it has been a while since Atomic browser got updated and still has the old iOS 6 design it is definitely worth checking out. With this app you get some really nice features like ability to increase or decrease font size, private mode, ability to block images for low bandwidth usage, bookmarks management, full-screen view and more. The app also has some really nice theme options that allow users to change its appearance. Atomic browser is available for free and supports both iPhone and iPad.
Puffin

If you are looking for a browser that can provide you with great features along with fast loading speeds then try the Puffin browser on your iOS device. It brings some really nice features that include Adobe Flash support through the cloud, ability to download on the cloud, sync tabs across devices, mouse simulation, virtual gamepad and more. You can download the Puffin browser for the App Store for free.
Dolphin browser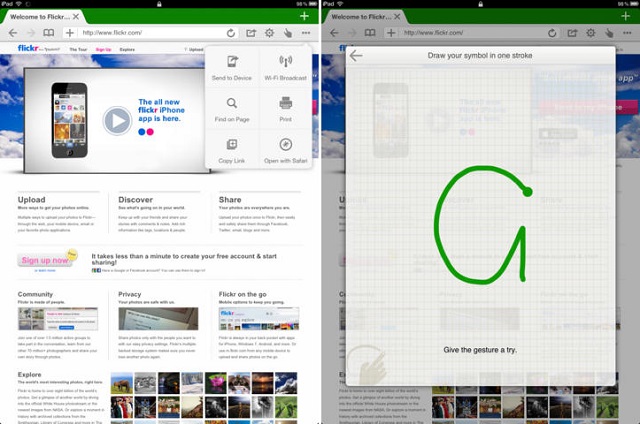 The Dolphin browser is one of the most feature-filled web browser you can find in the App Store. One of the most important feature of this browser is Gesture, which enables users to launch different websites by drawing a symbol or letter on their screen. Notable feature of this Safari alternative include sync feature between mobile and desktop, ability for users to share links with desktop Chrome and other browsers, speed dial, Dolphin connect, Sonar and more. You can download Dolphin browser from App Store for free.
Mercury Web Browser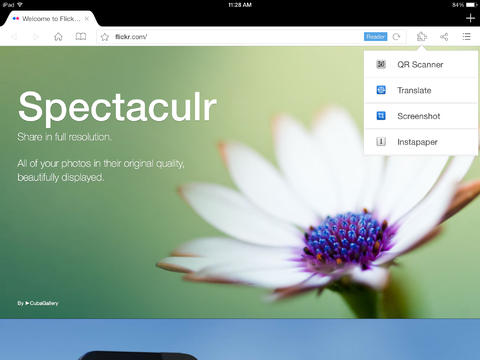 Mercury Web Browser has so many features that it is impossible to list them in this short intro. It is a simple looking browser that has everything you may need in your web browsing adventures from syncing to Dropbox integration, download management to ad blocking Mercury has got it all. Other notable features include themes, full-screen browsing, file sharing capabilities, AirPrint support and more. You can download the universal Mercury Web Browser from the App Store for free.
360 Web Browser

360 Web Browser follows a different approach than rest of the browsers listed here. It packs useful features like Firefox sync enabling users to sync tabs, bookmarks and history from the desktop browser, download manager with queue functionality, themes, media player, Dropbox integration ability to play flash videos from select websites and more. It also has the 360 Arc and FS features that make it easier for users to access useful features like bookmaarks, plug-ins, perform search and more. You can get 360 Web Browser for $0.99.
Disclosure: iOSHacker may receive a commission if you purchase products through our affiliate links. For more visit our privacy policy page.