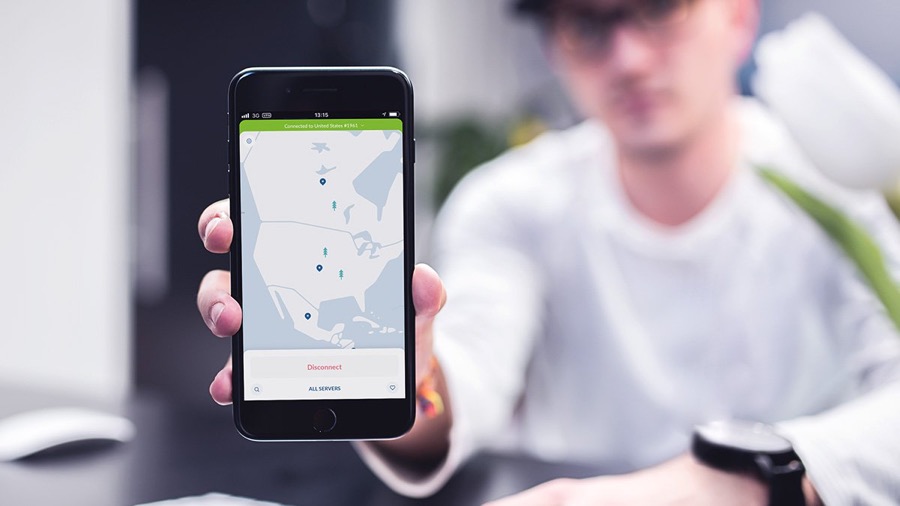 If you're looking at using a Virtual Private Network or VPN for the first time, it can be difficult to know where to start. There are a wide range of VPN providers out there with apps on the App Store, each claiming that they're the best – but whether that's true for you or not depends on several factors.
For most of us, VPNs are a way to secure public Wi-Fi networks so that we can do things like online banking or remote working without the fear of a third party accessing our connection. Naturally, this means that the mobile-friendliness of any given VPN is of major importance. If you're looking for a VPN for your mobile iOS device, there are a few things to look out for when deciding which service to use. 
The basics: an app version
Unless you're very technically-minded, manually setting up a VPN on your device could be a bit of a struggle. On some devices, it might not be possible at all. So the very first thing you need to know is, does the VPN provider have a mobile app version – and if so, is it straightforward to use?
Ideally, you want an app that can be installed across all your devices without any extra cost. Protecting your information on one device but not others will leave gaps in your security, so find out whether there's a limit on device use. If you've got a computer, smartphone and tablet for example, be sure to find a VPN provider whose app will work across all three.
Read user reviews to get a feel for how easy to use a given app will be. Are people complaining that it's too complicated, or that you have to opt in to security features which should be automatically enabled? Does the mobile version offer the full functionality that the desktop version has?
It's also wise to be aware of the risk of fraudulent apps. There have been many instances where App Store apps have been found to contain malware disguised as legitimate app services, so look at reviews here alongside number of downloads, store verification and other trust signals to ensure you're getting the real thing.
The best way to avoid fake apps is to use the app download link from a service provider's website, rather than searching in the app store separately.
A range of server locations
Some VPN services offer hundreds of different server locations you can switch between, while others only have a few dozen. This might not seem that interesting if you're thinking "I don't really care which country I appear to be browsing the internet from", but it can impact the speed of your connection.
Free VPN services often have a few server locations being accessed by a huge number of users, and as a result, the upload and download speeds can be pretty slow. There's also a risk that your connection can end up dropping entirely.
You don't have to spend a fortune to get a good VPN, but it tends to be true that paid services have much larger server networks and less users per possible connection. That means you've got a higher chance of browsing at normal speed, and a lower chance of being bumped off the network.
Using server locations in areas that are fairly close to you can also make things faster – so if you're based in the UK, a VPN that can connect you in Ireland, France or Germany is worth considering over one whose nearest server locations are in Singapore or Dubai.
A Kill Switch
It sounds dramatic, but a kill switch is vital if you're worried about your online activities being intercepted. Their function is to ensure that should your VPN connection drop, your whole internet connection will be shut off.
When browsing via VPN, your anonymity is reliant on the fact that your IP address is masked and replaced with that of one of the VPN provider's servers elsewhere in the world. The security of personal information being transferred is also only guaranteed when the VPN is tunnelling you through an additional layer of end-to-end encryption. So if that connection drops, two things happen.
First, your IP address is exposed. For some this may not be a concern, but if you want to avoid things like targeted ads, this is going to seriously hinder that goal. Secondly, your added encryption drops. So if you're using a network with poor encryption, like the Wi-Fi in a café or even some home networks, information transfers like card details and account numbers can be downloaded in a split second by outside parties.
To remove this risk, make sure your mobile VPN comes with a kill switch. That way if you are cut off for any reason, your whole internet connection will be disconnected – meaning none of your data gets leaked.
Whether you're looking to keep hackers out of your accounts and emails or simply want to use a VPN for accessing your usual TV shows and movies while you're abroad, a good app with a range of server locations is key. They say your cyber security is only ever as strong as its weakest link, and with a kill switch in place, you can rest assured that your details and data won't be exposed in the event of a connection error.
Disclosure: iOSHacker may receive a commission if you purchase products through our affiliate links. For more visit our privacy policy page.