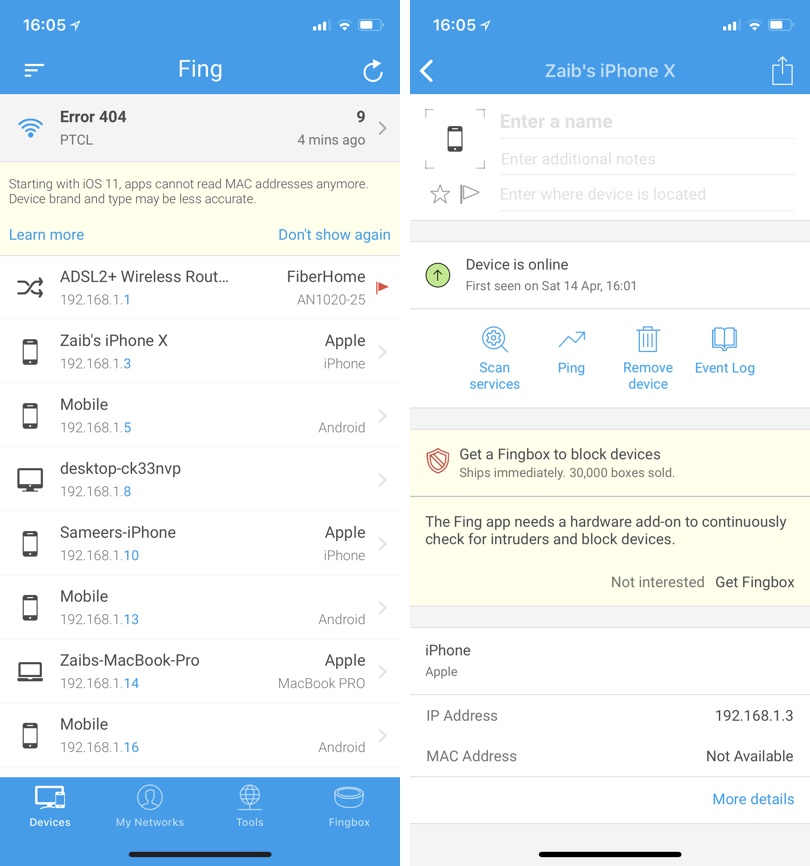 Do you ever wonder which devices are connected to your Wi-Fi network? Or perhaps you want to know if someone who you have not shared your Wi-Fi password with personally has suddenly gained access to your network. With the Fing – Network Scanner app for iOS you can quickly find out which devices are connected to your home or office Wi-Fi network, even the ones that are not yours.
It is a useful app that lets you stay updated on what devices are or have been using your network and have the ability to see its name and IP address, right on your iPhone.
You not only get a list of devices that are connected to your network but you can also tap on the device to get more information about it including the IP address, its online status, MAC address etc. If you are running iOS 11 or later you will not be able to see MAC addresses for devices. You can also assign a name and notes to the device and add its location.
Having the ability to add a name to the device is useful especially for accessories that only show a generic name. For example, if you have a smart bulb connected to your network and by default it is showing up with an odd name, you can tap on it and assign a more recognizable name to it.
The Fing – Network Scanner app also lets you switch to other known networks and see which devices are connected to those. If you are not actively connected to a network it will show the devices that were connected to it last time your iPhone was using the network. It will also show you the time when the the list was compiled. (via)
Download Fing – Network Scanner app for free here.
Disclosure: iOSHacker may receive a commission if you purchase products through our affiliate links. For more visit our privacy policy page.