Jailbreak for iOS 7 has been out for more than two weeks and in this small amount of time an impressive number of new tweaks have been released in Cydia. The ones that were already available have also been updated to fully support iOS 7 and ARM64 devices as well. We have been posting about new tweaks on daily basis but the huge amount of new releases could make you miss some really good ones.
To help you in finding out the best and must have Cydia tweaks for your iOS 7 powered iPhone, iPad or iPod touch we have made this list. In it we have featured some of our most favorite hacks that feature full support for iOS 7 and run on all devices.
If you are someone who thinks jailbreaking iOS isn't worth it then these hacks and apps would definitely make you rethink.
Also read: Best Cydia tweaks for iOS 8 everyone should download (2015)
Also read: 50 Must Have Cydia Tweaks for iOS 9 You Should Download in 2016
AirBlue Sharing 7
AirBlue Sharing 7 brings true Bluetooth sharing to iOS 7 powered devices. After installing it on their devices users can share all kinds of files from one device to another. With AirBlue Sharing 7 the Bluetooth file transfer is not limited to iOS to iOS as users can also send or receive files from OS X, Windows, Android and other devices powered by other softwares. AirBlue Sharing 7 is available for $4.99 in Cydia.
Activator
Activator has been the must have app for many years and it seems like it is going to stay that for many years to come. With this tweak iOS users can make doing different things on their device much easier. Activator enables users to assign different actions for tasks which includes pressing of buttons multiple times and on-screen gestures. Performing an Activator gesture can trigger different operations. The latest edition of Activator even allows users to assign actions to Touch ID, which makes it even more useful and fun. Activator can be downloaded from Cydia for free.
The latest beta of Activator with support for latest iOS version and devices is available through Ryan Petrich's repo.
AdBlocker
AdBlocker for jailbroken iOS devices does exactly what AdBlocker extension does on desktop browsers. This tweak can significantly make web experience better on iOS devices by blocking ads on Safari and third party browsers. AdBlocker is available for $2.19.
Assistant Unrestrictor
iOS features two voice assistants, one is Siri while the other one is less sophisticated but useful Voice Control. The Assistant Unrestrictor tweak enables iOS to switch from Siri to Voice Control when there's no Internet connectivity. Siri requires Internet to work while Voice Control works completely offline, which means you get a voice assistant regardless of Internet's availability. It is a free tweak.
BytaFont 2
BytaFont 2 makes it simple for iOS 7 users to change the font of their iPhone, iPad or iPod touch. Users can download fonts of their choice from Cydia and apply them using this jailbreak application. BytaFont 2 allows users to apply fonts to all parts of the OS or at specific areas. BytaFont 2 is free in Cydia and so are its fonts. It is one of the best tweaks to change the visual look of iOS 7.
BatterySafe
The BatterySafe is a must have tweak for those who always run out of battery and only discover it when there device has turned off. With it installed the iPhone automatically turns off the services that use the most power, which includes WiFi, Bluetooth and brightness when the device is running low on charge. BatterySafe is a free tweak.
BiteSMS
Just like Activator the BiteSMS tweak has been around from several years and has established itself as a favorite and most popular tweak among iOS users. It allows users to instantly reply to text messages or initiate a call without leaving the current app they are in. BiteSMS 8 with support for iOS 7 and ARM64 devices is available in Cydia for free. You have to add http://test-cydia.bitesms.com/ repo to get it as it is still in beta.
BetrFoldr
With BetrFoldr you can remove the blurry background of folders, create nested folders and add a new pinch to close gesture to folders. BetrFoldr really make the folders of iOS 7 better by adding basic features that should have been there by default. BetrFoldr is also free.
Bigify
Bigify is a tweak that makes it possible for users to change appearance of their homescreen by apply different settings to icons. With Bigify tweak users can make icons bigger or smaller, rotate them to their desired angle, change their opacity as well as remove their labels. Bigify tweak is available for free.
Bloard
With Bloard tweak iOS users can simply replace the white keyboard of iOS 7 with a better looking black one. The black keyboard looks aesthetically more pleasing especially on a black iPhone or iPad. Bloard is available for free in Cydia.
ByPass
ByPass makes having passcode protection less painful by allowing users to skip entering their password by performing an Activator action. Users can set a secret gesture that they can perform to ByPass passcode. ByPass tweak requires Activator and is available for free.
BioProtect
BioProtect tweak makes iPhone 5s' more useful by allowing users to protect apps with their fingerprints. This tweak only allows access to apps after the user has verified authorization using his or her fingerprint. BioProtect is available for $2.99.
AppScan is a free alternative to BioProtect with similar functionality.
CleverPin
CleverPin is another tweak related to passcode. With this hack installed users don't have to enter passcode again and again when they are at home, listening to music, charging battery and more. It intelligently handles the passcode problem making the process less annoying for iOS users. CleverPin is a paid tweak and is available for $1.99.
CCHide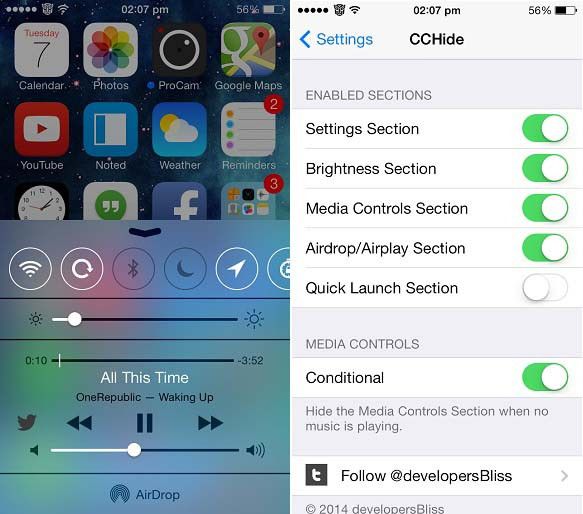 CCHide is a Control Center tweak using which users can change the appearance of this section of iOS. CCHide enables users to hide the sections of CC they don't use or conditionally hide the music controls when they are not required. CCHide can be used to make Control Center shorter, minimalistic and less crowded. It is available in Cydia for free with full support for ARM64 devices.
DockShift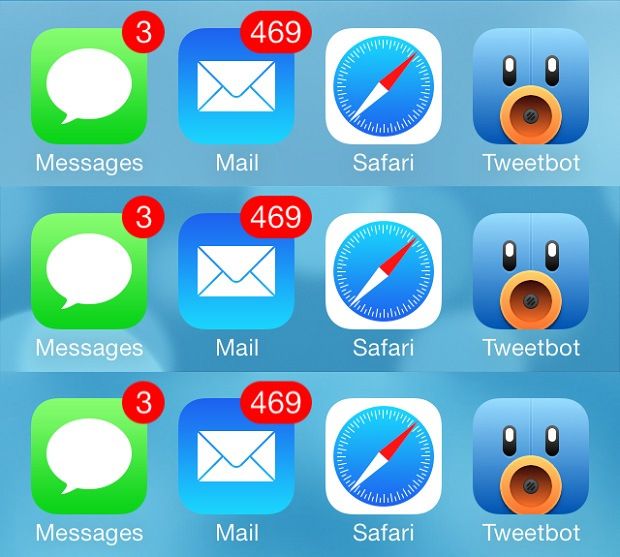 DockShift is focused on changing the appearance of the dock. Using this tweak jailbreak users can simply remove the blurry background of iOS 7's dock. Users can also change the background by applying tens of options available from the DockShift menu. DockShift is a free tweak.
Disable Parallax Effect
iOS does not allow users to simply disable the parallax effect. There is an accessibility option available but that also affects other animations. Disable Parallax Effect tweak makes the process simpler by simply disabling only the parallax effect. You can download it for free.
FlipControlCenter
With this tweak you can add, remove and rearrange the switches in the top and bottom shelves of Control Center. Users can add new toggles and links to their Control Center and even suppress some of them from being accessible from the lockscreen.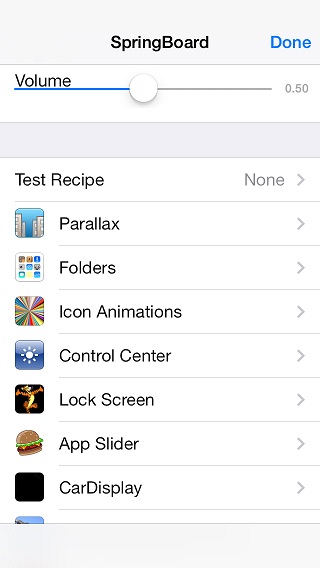 HiddenSettings7 brings out the hidden SpringBoard settings Apple does not want you to see. The settings are similar to Springtomizer 2 tweak allowing users to make big changes to the look and animations of their device. The settings are pretty advanced and should not be messed around if you don't have any idea what you are doing.
iCaught U
iCaught U tweak adds an awesome security feature to iOS devices that enables the device to take the picture from the front camera if someone enters the passcode wrong. The tweak not only takes the picture but also sends it to the owner of the device via email along with the current location of the iPhone. iCaught U is a must have tweak for those who protect their device using passcode. The tweak has been updated for iOS 7 and fully supports ARM64. iCaught U is free but there's a paid version as well called iCaught U Pro, which costs $2.50 with added features.
iTunes Radio Unlimited
iTunes Radio Unlimited tweak removes the skip limits from the iTunes Radio. Not only that but it also removes the advertisements from Apple's radio service making it flawless. iTunes Radio is a free tweak and available in Cydia.
iCleaner
iCleaner is a jailbreak app that makes it easier for users to remove unnecessary files from their iPhone, iPad or iPod touch thus free up space for other stuff. It deletes message attachments, Safari data, data related to apps, Cydia and more. iCleaner app deleted nearly 1GB of data on my first attempt. iCleaner is available for free in Cydia.
iFile is a file management app for iOS devices that gives root access to users. It allows file transfer to root directory of the device wirelessly from a web browser. Users can move, edit, rename as well as delete files using iFile application. iFile allows photos, sounds, text, HTML, sounds, iWork, PDF, Compressed and other types of file transfers. iFile is available as a free trial and costs $4.99.
LockDown Pro 7
LockDown Pro 7 is capable of password protecting apps and folders for users. With this tweak installed no one would be able to access your private apps and date on your device. Users can set different passwords for different apps and folders and configure other settings as well. It even protects them from getting delete by an unauthorized user. LockDown Pro 7 is available at a price of $2.99.
MiniPlayer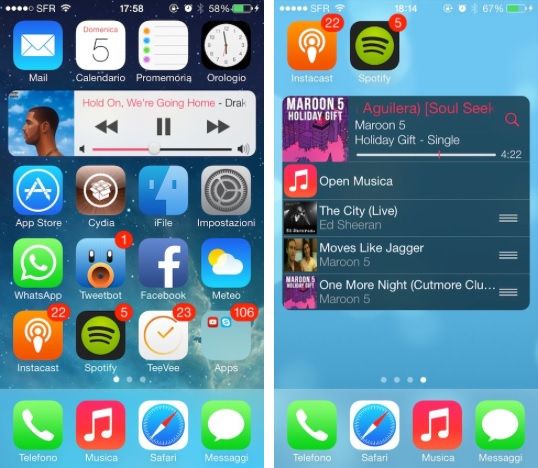 Want to add a music widget on your homescreen complete with music control and avatar? Then install MiniPlayer twaek from Cydia. MiniPlayer costs $1.99.
Messages Customiser
The Messages Customiser tweak from Cydia gives the messages app a unique personality. It allows users to cusomize the colors of bubbles for iMessaages and SMS messages. Users can also choose custom backgrounds, app tint, bubble opacity and more. Messages Customiser tweak is available for free in Cydia. It supports all iOS 7 devices.
NoSlowAnimations
The NoSlowAnimation is my personal favorite. It simply increases the speed of iOS 7's animations. The affect of this tweak is so significant that once you use it you won't be able to bear the slowness of default speed. NoSlowAnimations is available for free, too.
Open In App For Photos
Open In App For Photos adds a new option in image viewer that allows users to easily export photos in different third party applications. The app enables users to export pictures in any app that supports image import. You can download this tweak for free.
RecordMyScreen (tweak)
RecordMyScreen tweak provides an instant way for iOS users to record their on screen activity and share it with their friends. After installing this tweak users can assign an Activator action to it and instantly start recording after performing that action. There are a few options to configure that can be found within the Settings app. RecordMyScreen is available for free.
Swipey
Swipey adds a simple app launcher to the lockscreen that can be accessed simply by swiping. Users can launch their most used apps right from the homescreen by swiping to opposite direction of 'Slide to unlock' gesture. Swipey allows upto to six apps to be added in the launcher. Swipe tweak is available for $1.99 in Cydia.
SwipeSelection
SwipeSelection is an infamous jailbreak tweak that recently got updated for iOS 7. It brings a new way to edit text on iPhone, iPad or iPod touch making the task easier by adding gestures. SwipeSelection is free as well.
TetherMe
TetherMe is a must have tweak for those who want to get native tethering even though their carriers don't allow it. It bypasses the limitations from the carrier. One of the best things about this tweak is that it does not add any icon on the homescreen as its settings are available in Settings > General > Network.
Virtual Home
The Virtual Home tweak converts Touch ID into a home button allowing users to get to the homescreen simply by touching their home button and not pressing it. The tweak also launches the multitasking screen when  user taps and holds the home button (tap, not press). Virtual Home tweak is for iPhone 5s only and is available for free.
Winterboard
This list of must have Cydia tweaks and apps could not be  complete without the inclusion of Winterboard. This tweak enables iOS users to apply themes and other third party visual elements on their device giving iOS a fresh new look. Although Winterboard has yet to receive update for iOS 7 and ARM64 it is still working on iOS 7 devices other than iPhone 5s, iPad mini Retina Display and iPad Air. Winterboard is free. Checkout Winterboard themes.
Zeppelin enables iOS users to give their device a personal touch by replacing the carrier name with a cool logo from their favorite brand, game or movie. Users can also create and  upload their own art to Zeppelin. It is a free download.
Hungry for more? Then check these out as well.
Barrel: Barrel adds animations to the homescreen that appears when users swipes to go from one page to another. There are tens of animations for this tweak. (2.99)
CyDelete: CyDelete makes it easier to delete applications that were downloaded from Cydia. With CyDelete installed users can delete Cydia apps just like they delete App Store ones. Its free.
CustomLS: With CustomLS users can change the 'Slide to Unlock' text as well as add a tagline below it. It also allows them to disable camera grabber, time and other elements of the lockscreen. CustomLS is free.
f.lux: f.lux tweak changes the brightness settings and temperature of the display according to the lighting conditions of the place you are at. This makes using the device less painful for the eyes. f.lux is free.
Flat Notes: Flat Notes gets rid of the skeuomorphism in the stock Notes app of iOS 7. It replaces the paper texture of the app with a plain white background. It is free.
Fake Carrier: It replaces the carrier name with any text of user's choice. On non-iPhone devices it simply adds the user specified text in the status bar. It is free as well.
GlowDock: GlowDock tweak adds a nice looking glow behind the icons of the iOS 7 dock. It is a free tweak.
NoPageDots7: Just like its name suggests NoPageDots7 tweak removes the page indicators from the homescreen. Its free.
NoSwitcherIcons: NoSwitcherIcons removes the icons that appear on the app switcher screen right below the app previews. There are no settings to configure and it is available for free.
Photo Blackground: Photo Blackground adds a black background in the back when user is viewing photos replacing the usual white one. Its free, too.
Ringdom: With Ringdom installed iOS users can set multiple ringtones at once. The selected ringtones are ringed randomly. Ringdom is free in Cydia.
SBPowerAlert: The SBPowerAlert is a simple pop up that gives users option to reboot their device, turn it off, view available RAM, put it in safe mode and more. SBPowerAlert pop up can be accessed using an activator action. Its free.
Slide2Kill 7: The Slide2Kill7 tweak allows users to kill all running apps simply by sliding down on any app's preview in app switcher. The tweak has an option that allows users to exclude specific apps from being killed.
SkipLock: SkipLock simply removes the lockscreen when there are no pending notifications (or passcode protection) allowing users to access their device simply by pressing the home button or the lock button. It is free, too.
Share Widget for iOS 7: This tweak brings back the social status sharing button of iOS 6's notification center to iOS 7. Users can press the button for Facebook or Twitter to quickly share a status on the popular social networking websites.
VoicemailRemoveriOS7: This simple tweak removes the voicemail button from the Phone app. It is a blessing for those who do not use the Voicemail feature. VoicemailRemoveriOS7 is a free tweak.
Did we miss any? Share your favorite tweaks in the comments below.
Disclosure: iOSHacker may receive a commission if you purchase products through our affiliate links. For more visit our privacy policy page.