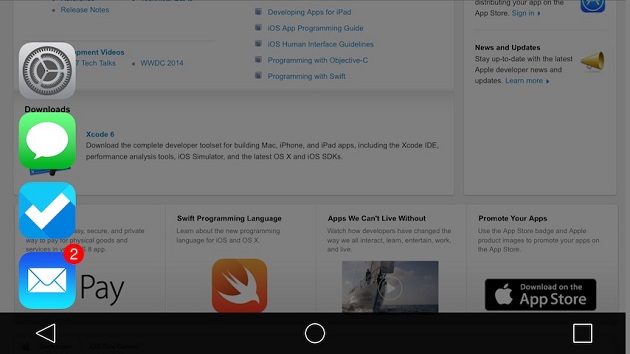 Those of you who have ever used a stock Android device would know that the operating system features a bar at the bottom with three on-screen buttons. They are used to go back in apps, return to homescreen and open the multitasking page respectively. iOS does not have on-screen buttons like these and such functions are performed either through the home button or by tapping on the navigation buttons at the top. If you have ever fancied having Android-like navigation buttons on your iPhone then a new tweak called AlternateControls can help.
The bar and the three buttons on it look exactly like they do on Android Lollilop. With this tweak you also get the option to have white background for the bar instead of black. The button bar does not always appear on the screen and can be brought up by swiping from left or right side of the screen. You can also assign any other gesture to access it using Activator tweak. Along with the Android Lollipop like look, you can also choose the classic look of these buttons from preferences. There are several other customization options that you can select as well.
Unlike the back button on Android's on-screen bar, AlternateControls allows users to perform multiple functions with its back button. Users can use it to go to the previous app they were using and come back to the current one, or return to all previously running apps one by one. Another feature of this button is that when you tap and hold on it a list of icons appear for the apps you previously used, so you can return to them easily.
Also read: Add Android Lollipop's lock animation to iOS with CheeseCake tweak
The circle button as you may have already guessed is used to return to the homescreen, while the square button launches the app switcher page.
AlternateControls tweak is available in Cydia for $0.99. It requires iOS 8 to run.
Disclosure: iOSHacker may receive a commission if you purchase products through our affiliate links. For more visit our privacy policy page.