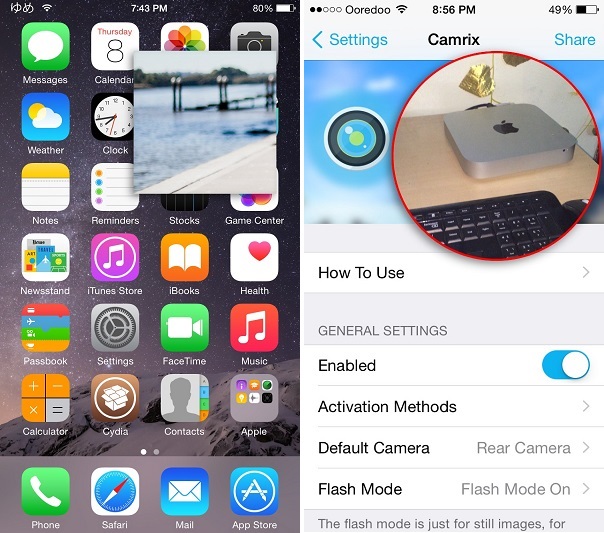 There's no shortage of Camera tweaks in Cydia and some of them really change the way how we use this all important feature of our iOS devices. Joining the club of Camera tweaks for iOS is Camrix, which allows users to take photos or record videos from anywhere. The tweak is somewhat similar to QuickShoot, however unlike that tweak Camrix actually shows a preview of what is seen by your camera on the screen. This preview can be seen from the homescreen as well as from any app, meaning you can take photos even when using any other part of iOS.
You can assign an activation method to invoke this tweak. Once you have done that you can get the camera preview no matter which part of iOS or app you are using. Camrix works for both front and back cameras of the device, and you can switch between them by double tapping on the preview area. You can also set the default camera, so if you are someone who likes to take a lot of selfies then the front camera is a better option. Flash can also be turned on or off from Settings.
To take a photo you simply have to tap on the Camrix preview area whereas to begin recording a video you can tap and hold. There are a bunch of camera related settings that you can change from preferences such as image quality, shape of the preview area and other aspects of its appearance, whether you want to record audio with videos and more.
Camrix is a powerful tweak that has many real world uses. It allows users to take photos without actually launching the Camera application or leaving the app that they are currently using.
If you would like to buy this tweak then you can get it from Cydia for $1.99. If Camrix is something that can be useful to you then you should get it without hesitation. It runs on all devices running iOS 8 or iOS 7.