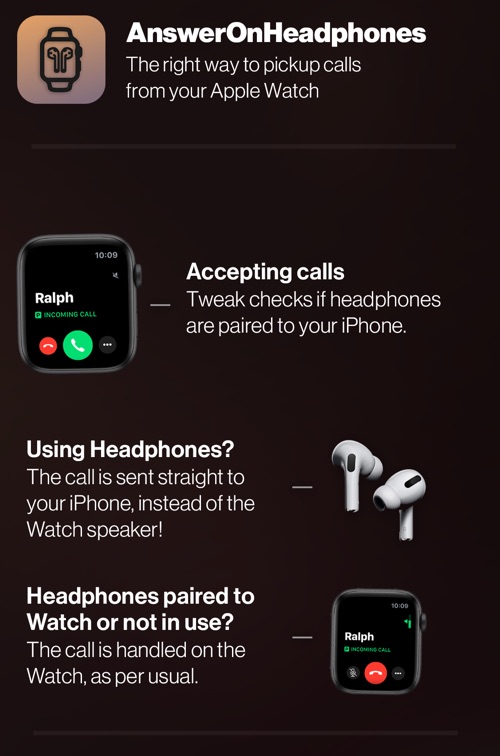 Picking up a phone call through an Apple Watch is a straightforward process for AirPods users. You can simply accept the phone call from the Watch and it will automatically get transferred to the AirPods without requiring any input from the user.
However if you happen to use Bluetooth headphones that are not AirPods, then it is a different story altogether. With non-Apple wireless headphones if you pick up the call from the Apple Watch you have to select answer on iPhone, then unlock your iPhone, navigate to call, take the call off hold and switch to the Bluetooth headphones before you can start talking. This is a tiresome process and should be handled in a better way.
A new jailbreak tweak called AnswerOnHeadphones is here to help those who are using non-Apple wireless headphones. This tweak automatically redirects the call to the Bluetooth headphones when the user accepts it from the Apple Watch, without requiring the user to switch to the headphones manually from the iPhone.
This saves a lot of time and makes picking up phone calls with Apple Watch and non-AirPods Bluetooth headphones as convenient as it is on the AirPods.
Do note that this tweak is helpful for non-Apple made wireless headphones and brings a functionality that is already available on AirPods and newer Beats headphones.
You can download AnswerOnHeadphones tweak from the Packix repo for $0.99. It is compatible with iOS 13 or later.