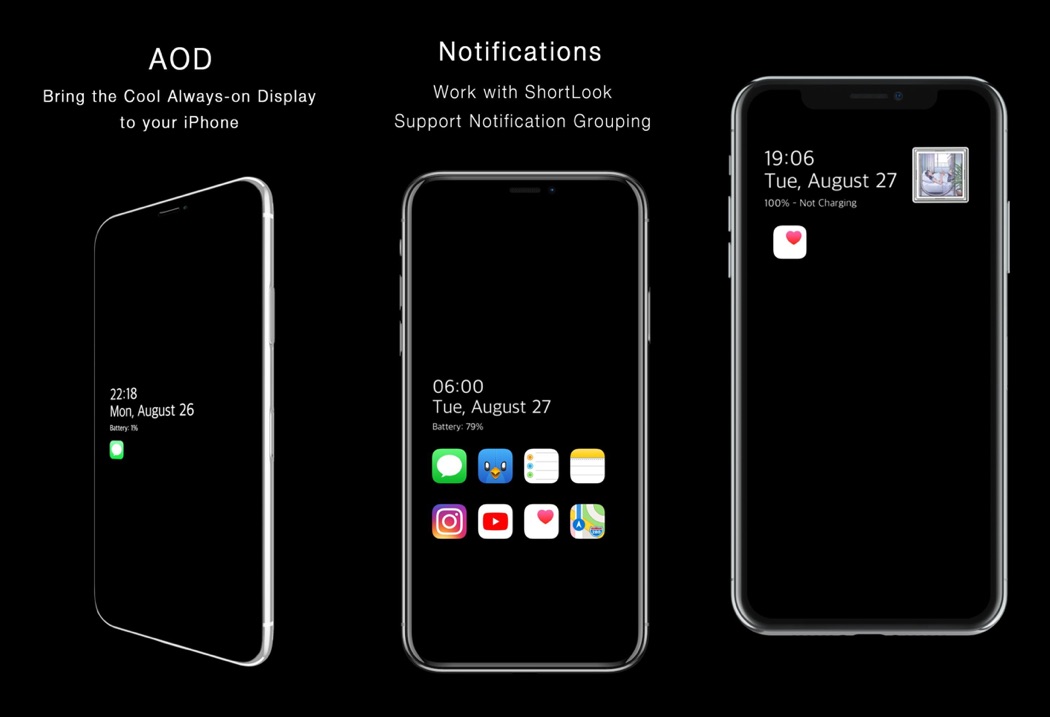 With their OLED displays modern iPhones are perfectly capable of offering always-on display features such as showing date, time, current charging status and pending notifications on a locked device. However Apple has so far refused to take advantage of OLED iPhone's full potential.
Enters the new AOD tweak, which brings the missing always-on features to iOS devices. These features are similar to what is already available on some Android devices. After installing AOD tweak on your jailbroken device you get a wide list of visual options that you can have displayed on your idle and locked iOS device.
This includes the current battery level, currently playing song's name and its artwork, time, date, as well as icon for app with pending notifications.
The great thing about the AOD tweak is that it offers many customization options to the user, allowing them to change many different aspects of the tweak. Users can choose to enable or disable any of the items that are shown on the lockscreen, change icon fade animation, make icons grayscale, change the size of the app icons, choose the brightness of the always-on screen and more. You can also move the items according to your preference on the Y-Axis.
AOD's developer has promised that he will be adding new features to the tweak including the ability to change the time format and moving labels on the X-Axis.
As AOD tweak adds always-on display feature to the iPhone, be aware that it will result in higher battery consumption on your device especially if you have an LCD iPhone like the iPhone XR, iPhone 8 or older. The tweak should work best on iPhone X, iPhone XS and iPhone XS Max as these devices feature OLED displays.
According to its developer you can expect your device to consume 1-3% more battery per hour. As he has tested the tweak on an iPhone X, we suspect these stats are for OLED models only.
In case you are worried about OLED burn-in problem with this tweak, rest assured as it features 'Pixel Shift' burn-in protection feature.
You can download the AOD tweak from the Packix repo, where it is available for $1.25. It is fully compatible with iOS 12.4.
Disclosure: iOSHacker may receive a commission if you purchase products through our affiliate links. For more visit our privacy policy page.