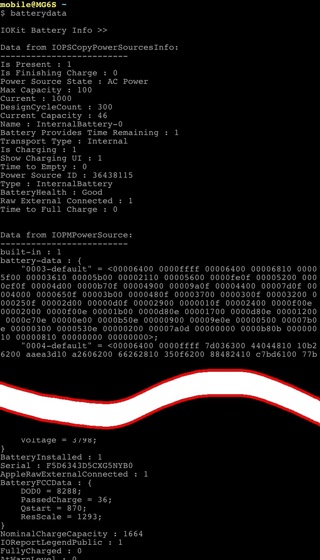 If you are looking for detailed information about your iPhone's battery, then you have some decent jailbreak and non-jailbreak options. However if you want to go really deep into analyzing the state of your iPhone's battery and check out information that is not available in other apps, then you should try the iOS Terminal based BatteryData tool for jailbroken devices. With this tool users can simply type a command in a Terminal app like Mobile Terminal.
Once they do, they will see a long list of battery related information coming directly from IOKit. This means the data is pretty accurate and updates every 15-20 seconds according to BatteryData's developer. Things you can see in BatteryData tool for iOS Terminal include current, design cycle count for the device, battery health, time to full charge and other information about the internal battery. Not everything BatteryData lists is useful for the common user, however it is interesting to see a tool that is much powerful than the ones available elsewhere.

To download BatteryData tool for free you need to add 'http://sticktron.github.com/repo' and download the package. Then simply run an app like Mobile Terminal (also available in Cydia) and type 'batterydata' to get the detailed battery information.