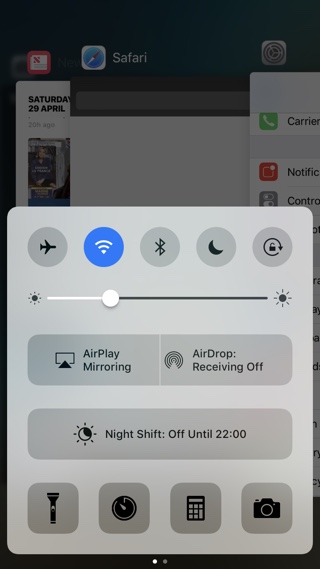 If you have Control Center disabled within apps but often find yourself in situations when you need to use it, accessing it can be an tiresome experience. You first have to exit the app and then swipe up to access Control Center once you are on the homescreen. Then once you are done you have to access the App Switcher and go back to the app you were using. If you don't want to enable Control Center access within apps but still want to be able to access it without fully exiting them, then we have got a useful tip for you.
It turns out you can access Control Center from the App Switcher screen. All you have to do when using an app is double press the home button to open the App Switcher screen. Once on App Switcher simply swipe up to use the Control Center. Once you are done tap on top section of the screen to dismiss it and then tap on the app card of the app you were previously using.
With this simple tip you can access all that Control Center has to offer including handy settings toggles, shortcuts and controls without any compromises.