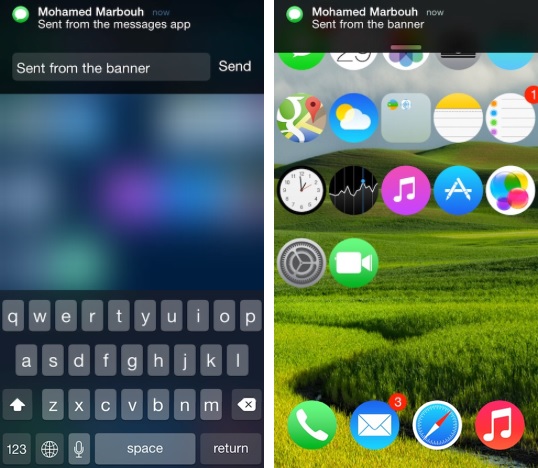 One of the most exciting new features iOS 8 brings is the ability for users to quickly reply to messages directly from notification banners. Users can simply pull down on a banner, type their reply and hit the 'Send' button without even launching the Messages app. Today a new Cydia tweak called Interactive Message Notification has been released that brings this iOS 8 feature to jailbroken iOS 7 devices. Although there are existing tweaks such as BiteSMS and Auki available that give the same functionality to iOS 7 users, this implementation looks closest to what iOS 8 offers.
The tweak integrates well with the existing look of the notification banners without making any visual changes to it. To reveal the typing field you can simply swipe down on the banner. There are no options to configure and the tweak places no icons on the homescreen. Although it is quite stable there are a few bugs that need to be fixed as pointed out by this Redditor.
Interactive Message Notification fully supports iOS 7.1.1, making it compatible with all iOS 7 versions. You can download this tweak from Cydia's BigBoss repo where it is available for $0.99.
Would you install Interactive Message Notification or you would rather stick to BiteSMS or Auki? Let us know in the comments below.