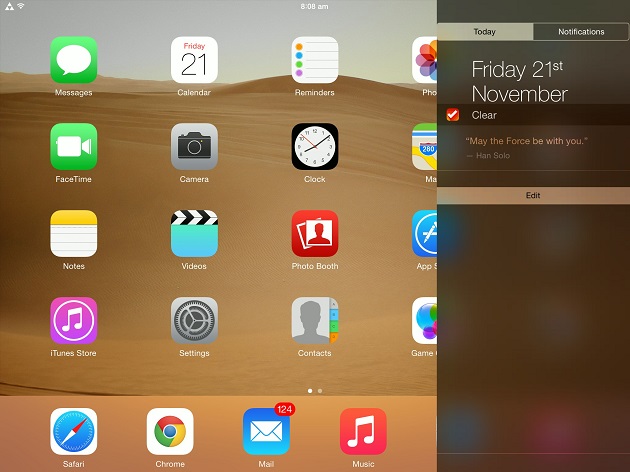 If you like the notification center experience on your Mac as opposed to the one found on iOS then you will be pleased to know that a new Cydia tweak called Centrum has been released that brings the NC on the side. Normally on your iPad you can bring out the notification center by sliding down from the top. With Centrum you can do the same by swiping in from either right or left side of your display.
The look of the Notification Center is also very similar to what you see on OS X. Unlike the default design of NC on the iPad the OS X-inspired look of Centrum is narrow and sidelined, which allows you to also see the content present in rest of the screen easily. The 'Today' and 'Notifications' sections work in the same way as they normally do.
From Settings you can enable or disable the tweak as well as activate the 'Lefty' mode. This mode only enables the notification center swipes from left side instead of both.
If you like the Centrum tweak and would like to have Mac like NC on your iPad Air or iPad mini then head to Cydia and download the package. It costs $0.99 and fully supports iOS 7 up to iOS 8.1.