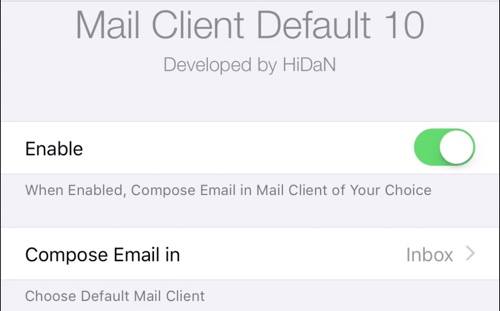 iOS does not allow users to set a third-party app as their default application. Users have been longing to get the ability to set their favorite third-party mail, maps or web browser as the default option. A new Cydia tweak called MailClientDefault10 solves this problem at least for mail by enabling users to select an app of their choice as default email client on their iPhone or iPad. Currently MailClientDefault10 has limited support for mail clients as it only works with Inbox, Gmail, Spark and Outlook. More options will be added soon.
When the tweak is enabled and installed it will allow users to compose a new email directly in the mail client of their choice. Normally when you click on a mail link in Safari, Notes or a 3rd party application the default Mail app's compose page opens. MailClientDefault10 changes that and opens user's selected app when such action is performed. This app makes the transition from iOS stock Mail app to user's favorite app complete.
You can download the MailClientDefault10 tweak from Cydia for free. It is available through the BigBoss repository and supports iOS 10.