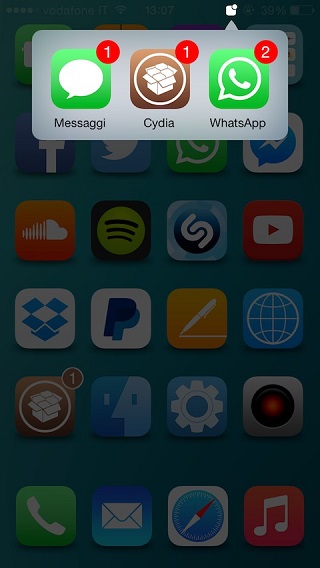 The new Confero tweak for jailbroken iOS devices puts apps that have pending notifications in a folder, which users can access by tapping on the status bar or via an Activator gesture. This tweak has been designed in order to declutter your homescreen, by getting rid of the red badges that appear next to app icons. The Confero folder lists up to 4 apps at a time and has pagination support. When it is invoked the folder appears as an interactive pop up that you can use even when you are in any other application.
Confero tweak features a polished design that is both practical and aesthetically pleasing. It comes with a dark and light mode that you can choose from its settings page. From the Confero folder you can not only launch an app with pending notifications but can also dismiss it and all of its notifications by performing a swipe down gesture on its icon. You can even dismiss all apps at once by long holding on any icon present within the folder.
There is also an option to secure Confero folder through passcode or Touch ID on newer devices. While this feature seems unnecessary to us, you can use it if you want added privacy.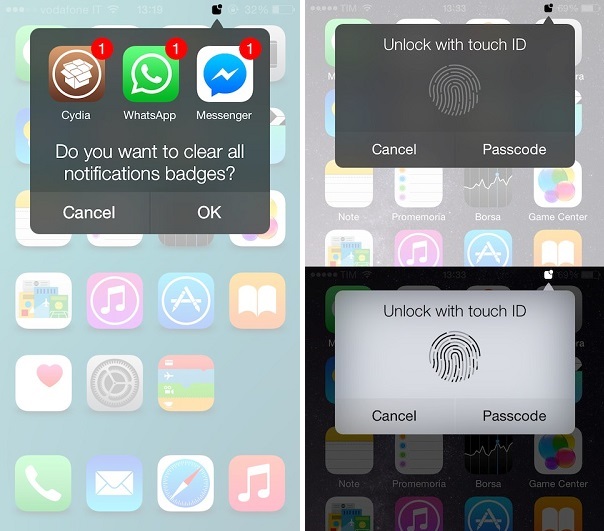 Another interesting feature of this tweak is called 'Intermediate Badges'. These are minimal looking badges that only indicate that you have notifications for any given app, without showing how many. This replaces the noisy red badges that have numbers with small yet noticeable arrows.

Confero tweak works on all iOS 8 running devices except iPad. The developer says an update with iPad support will be released soon. You can get it for $1.50 from Cydia.