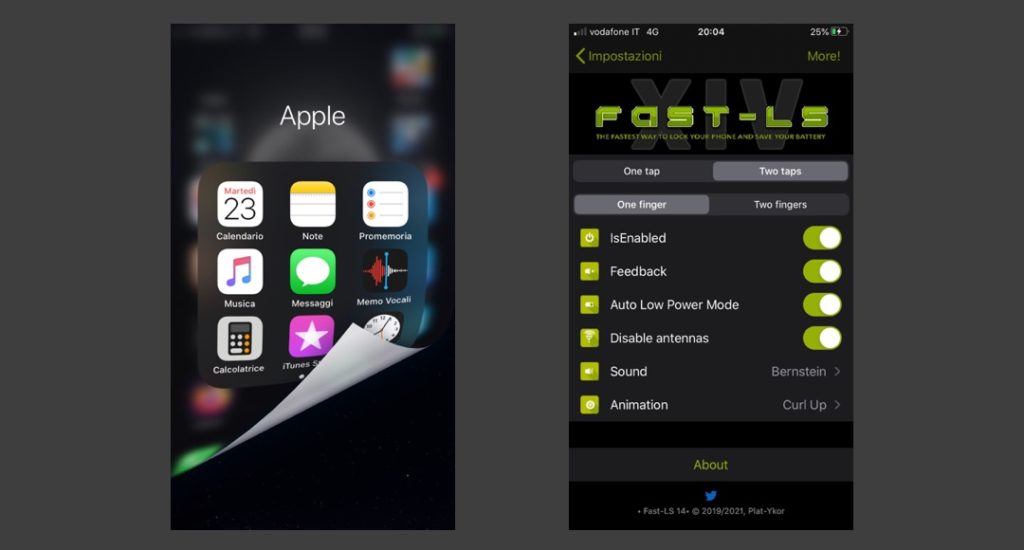 If you're looking for a faster and arguably more convenient way to lock your iPhone after use, then you need to try the Fast-LS14 tweak for jailbroken devices.
With the help of Fast-LS14 tweak you can easily lock an iPhone by simply tapping on the springboard area. With this tweak you are no longer required to use the side/lock button of your device in order to lock it.
You can configure the tweak to let you lock iPhone by single or double tapping on the springboard with either 1 or 2 fingers. You can choose which option you want to enable from tweak's preferences.
Fast-LS14 also offers some other features that make this hack even more useful. From its settings you can enable the AutoLPM mode, which will enable iPhone's Low Power Mode as soon as you lock your device. This helps in increasing the device's battery life. The Low Power Mode is automatically disabled as soon as you unlock the iPhone.
You can also configure this tweak to automatically disable Bluetooth and GPS when you lock the device to save even more battery.
Fast-LS14 tweak also brings customizable lock sounds to the iPhone. You can choose your favorite lock sound from the preferences page. Once selected your chosen sound will be played when you tap on the springboard in order to lock the device.
In addition to sound you can also use this tweak to add animation to the lockscreen, which is played when you lock the device. One of the lock animations include the page flip animation seen in the first screenshot above. A small vibration feedback is also added for the lock.
You can download the Fast-LS14 tweak from the BigBoss repo where it is available as a free download. This tweak is compatible with iOS 14 and iOS 13.
More tweaks for iOS 14: