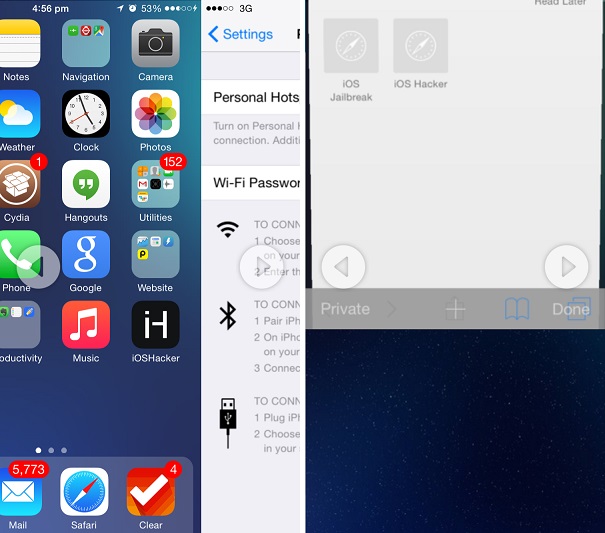 The App Switcher screen found on iOS 8 features app preview cards and icons. While it looks very nice there are large empty spaces on all sides of the preview cards that many users don't like. If you don't like the current look of the multitasking screen and want a change then you should try FullSwitch (iOS 8) tweak from Cydia. It removes the blank spaces and icons from the multitasking screen, presenting the scrollable app previews in full screen glory. Since the previews take up full space the tweak also shows two arrow indicators to let you know that you have entered the app switcher mode.
Even though the cards now take up the whole screen you can interact with them as you could before. You can swipe left of right to switch apps and swipe up to close any application. Apart from adding the full screen mode FullSwitch tweak also adds a bunch of other features such as a privacy mode, which blurs the app previews so information is not visible to everyone accessing the screen. It also features a dedicated landscape mode.
The tweak also packs a quick actions screen that appears when you swipe up on the homescreen preview. The quick actions that are available to the users include buttons for respring, reboot and a close apps button that closes all running applications for the user.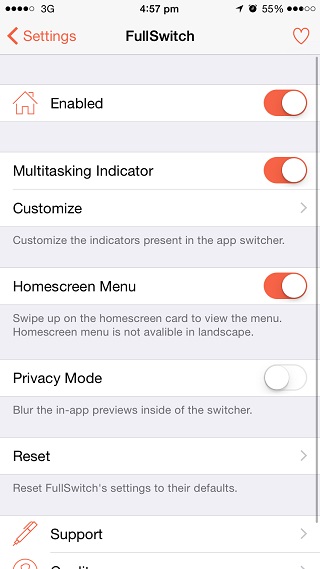 You can download the FullSwitch tweak from Cydia for free. It works on all iOS 8 powered devices.