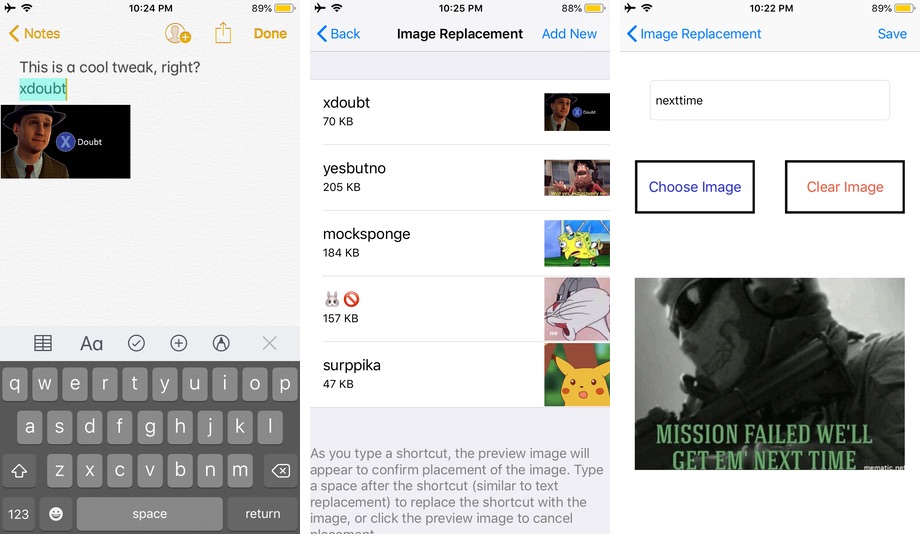 Do you share memes a lot? Then you are going to love the new ImageCorrect tweak for jailbroken devices. This tweak makes it super convenient to enter image in any text field by allowing users to save images on their device and then assigning a keyword to them.
Once you have assigned a shortcut keyword to any image of your choice, you can quickly enter that image by typing your assigned keyword. ImageCorrect works in the same way as text replacement feature on iOS, the difference being it allows users to replace words with images instead of correct spellings. For example, you can assign the shortcut keyword 'xdoubt' to a image or meme that relates to this word through the ImageCorrect's interface. Once you have added it you can quickly enter the image by typing the keyword 'xdoubt' in any text field.
Once an image has been assigned to a keyword, as soon as you have finished typing the keyword preview of its corresponding image will appear on the screen. At this point you can simply tap on the space key to replace the text with its assigned image. You can also cancel image replacement by tapping on the preview image.
The great thing about this tweak is that it works system-wide, so you can use this feature in Messages, Notes, third-party communication apps and more.
While this tweak is great for entering memes quickly it can also be used for any other purpose and is great for those who edit text a lot on their iOS device.
ImageCorrect is still in beta. You can download this tweak from Cydia or Sileo through the Nepeta repository, where it is available as a free download.