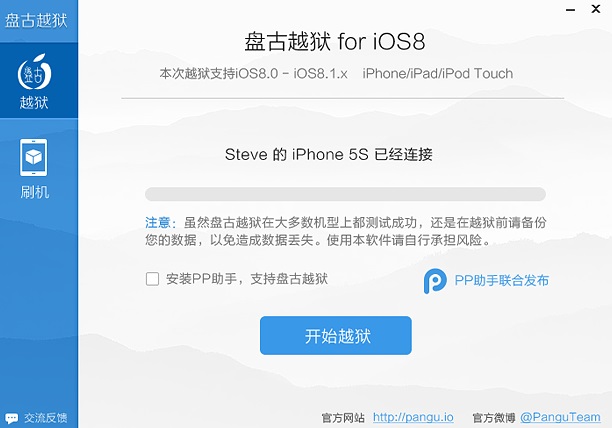 Pangu team has surprised everyone once again by releasing the iOS 8 jailbreak, which is now available for download. The jailbreak supports all devices running iOS 8.0 to iOS 8.1, which includes the newer models such as iPhone 6, iPhone 6 Plus and possibly the newer iPad models. While the jailbreak is ready technically it still does not install Cydia on devices. Pangu team has clarified that Cydia is now ready for iOS 8 and will be part of the jailbreak tool as soon as Saurik updates it. The good news is Saurik is already working on updating Cydia for iOS 8.
The Pangu iOS 8 jailbreak does provide SSH access to the devices, which is good for tweak and Cydia app developers who can now work on making their hacks compatible with iOS 8. It is a good development as whenever Cydia is updated to support iOS 8 you will have a wide range of tweaks that will already be supporting the new operating system.
As of right now Pangu for iOS 8 is only available for Windows. We anticipate that a Mac version will be hitting the web soon as well.
Since Cydia is not compatible with iOS 8 yet we advise general users to stay away from this release until a proper Pangu tool with Cydia bundled with it is made available by the team.
As always we will be posting you about all the news, hacks and how to's in the coming days.
If you are a tweak/app developer or just want to try then tool then you can download Pangu for iOS 8 here.
Update: Saurik updates Cydia for iOS 8.x jailbreak