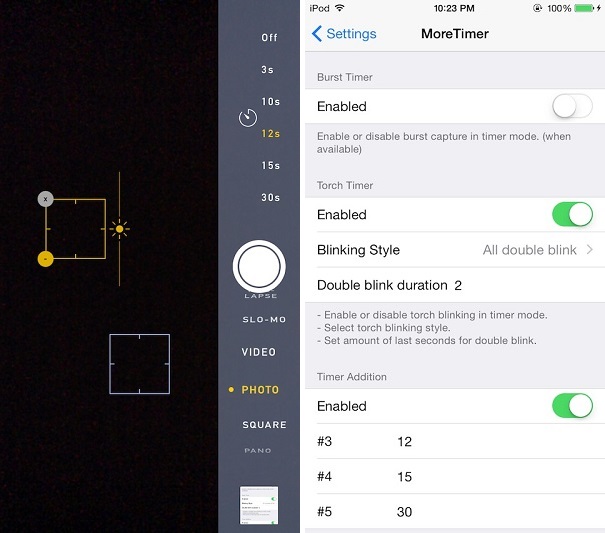 iOS 8 added the new Timer feature in stock Camera app of the operating system. This is certainly among the list of best features that were added in the software update, as it made the life of iPhonegraphers a lot easier. If you feel like the Timer option in Camera is not powerful enough and would like to add more features to it then a new tweak called MoreTimer can help you in achieving this task. It has several notable features that give you more control over how Timer works on your iPhone, iPad or iPod touch.
The most notable feature of MoreTimer tweak is that it enables users to add three more timer options in addition to the three that are already available. Making it possible for you to have up to 6 countdown options. On its preference page you can simply type the number of seconds you want the timer to count before taking the shot and then select those options from app's UI. Another cool feature of this Camera tweak is that you can use it to enable timer feature in Burst mode.
MoreTimer also gives you control over the torch's blinking when timer mode is on. You can either choose to disable it or change the amount of seconds when double blinking starts. It allows you to change the blinking styles for the torch as well.
Overall MoreTimer is a nice tweak that makes the Timer feature of Camera app even better. You can download it for free from Bigboss repo.