Ever wanted to download your favorite song mixes from SoundCloud or 8tracks? If yes then a new Cydia tweak is here to turn your wish into a reality. Music Enhancer gives you the ability to download any song directly from the SoundCloud or 8tracks iOS app. After installing the tweak you will be able to download the songs by a single tap. And if you like you can also import these songs to the Music app of your iOS device.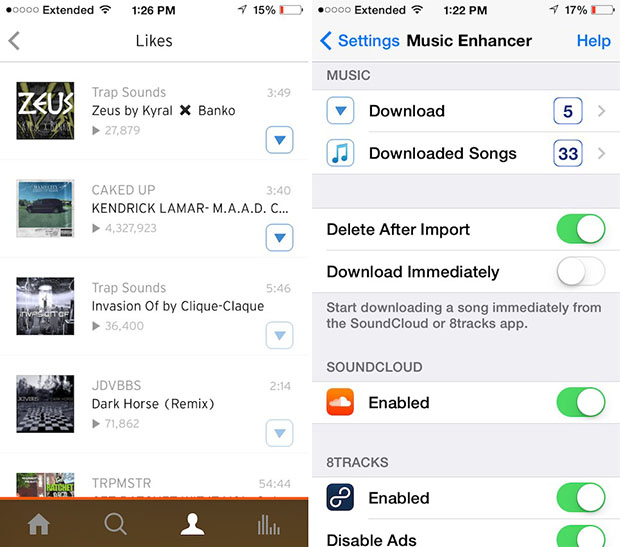 You will need to have the version 3.0 or later of both the SoundCloud and 8tracks apps in order for this tweak to work. You can download the song immediately by a single tap or save the link to download later. The tweak also packs a Music Player that allows you to instantly play downloaded songs. This built-in player also works in the background as well as also supports the media controls in the Control Center. Moreover you can also block the annoying ads in the 8tracks app.
You can track all the downloads from the tweak's settings pane located in the Settings app of your iOS device. The good thing about the tweak is that it enables you to import the downloaded songs to your Music app library. However doing this will require Gremlin, another Cydia tweak, which is available for free. Unfortunately Gremlin isn't compatible with iPhone 5s so at the moment import function doesn't work for this model.
Here is the full features list for Music Enhancer:
Download song immediately or save the link to download later
Download songs seamlessly in the background
Custom Music Player that is similar to the iPod.app
Music Player songs will play in the background
Music Player works with the ControlCenter media controls
Open Music Player anywhere with Activator
Import songs to the default iPod.app
Delete or keep songs after they are imported
Disable ads on 8tracks
Edit song metadata
Smooth animations
Refined details
On/Off switches
Music Enhancer tweak is compatible with iPhone and iPod touch running iOS 7.x. You can get the tweak for $1.99 from Cydia.