Today's roundup of newly released Cydia tweaks includes some of the most notable hacks that have been released in the jailbreak store recently. All of these hacks are available for free and work absolutely fine on iOS 7.1.x powered devices. The list includes CenterStage, NoSwitcherLabels, NoRedirect2AppStore, and NoSlideWhileMusic. While these tweaks don't make huge changes to the operating system or add new features to it they do make subtle changes that are noticeable to those who want them.
CenterStage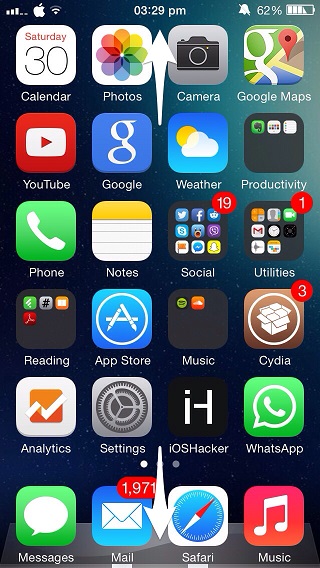 The CenterStage tweak affects both Notification Center and the Control Center. With this hack installed you will only be able to pull down the NC or pull up the CC when you perform the gesture from the middle of the status bar or screen bottom respectively. There are no options to configure this tweak. You can get it for free from the BigBoss repository.
NoSwitcherLabels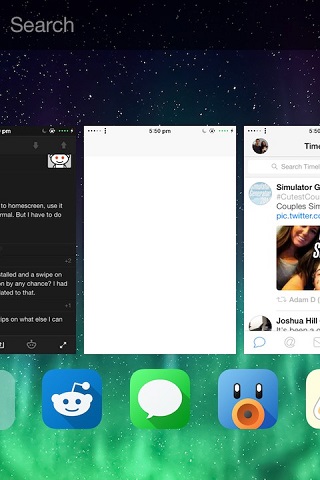 NoSwitcherLabels is a tweak for minimalists that removes the very visible icon labels from the app switcher screen. The labels appear at the bottom of the app telling you the name of the app that particular card belongs to, however it makes no sense to have these labels as you can easily identify the app through the preview card and its icon. If you want to remove the labels then NoSwitcherLabels is the tweak for you, it is available for free in Cydia's BigBoss repo as well.
NoRedirect2AppStore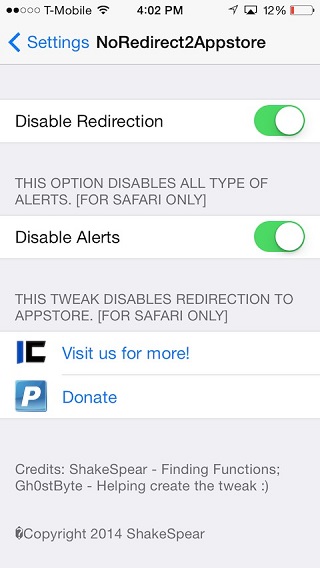 NoRedirect2AppStore disables the redirection feature of iOS Safari, which pulls you out of the web browser and throws you into the App Store or Phone app when you tap on certain links. After installing this tweak Safari won't do this, in fact it won't do anything when you tap on a link to App Store. You can easily turn this tweak off from Settings if you want to enable redirection feature. The Phone feature will work if you tap and hold on a number and hit the 'Call' button. You can download NoRedirect2AppStore for free from BigBoss.
NoSlideWhileMusic
NoSlideWhileMusic tweak simply removes the 'Slide To Unlock' text when the music is playing in the background. This tweak is especially designed for minimalists who would like to enjoy the artwork of their favorite song or album without getting distracted. The best thing about NoSlideWhileMusic is that it only works when the music is playing and does not hide the text otherwise. You can download it from BigBoss repo for free.
Disclosure: iOSHacker may receive a commission if you purchase products through our affiliate links. For more visit our privacy policy page.