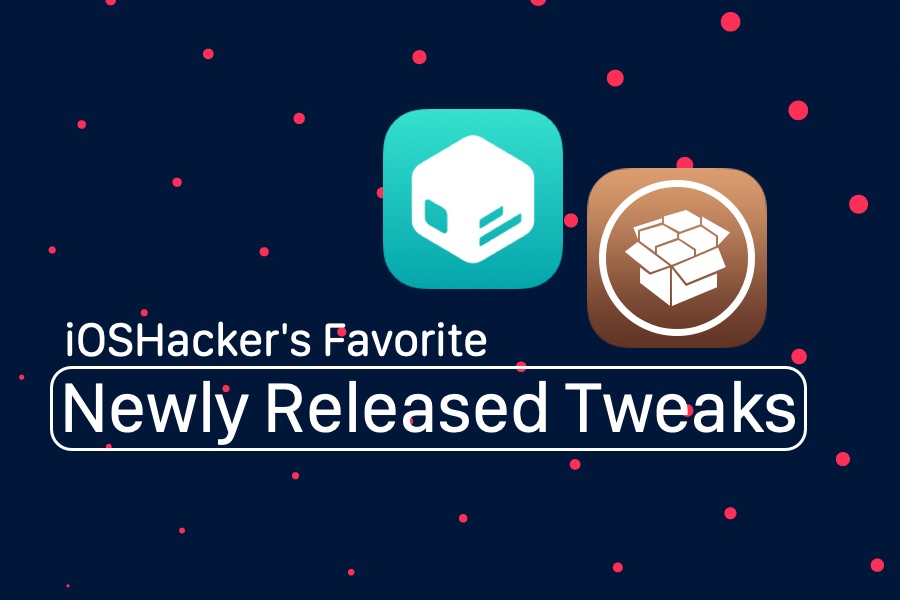 Staying inside all the time is hard but the good news is you can spend some of that time downloading and trying out newly released jailbreak tweaks that are now available for download. All of these hacks, which fully work with iOS 13 by the way add new features and functionality to iOS and as result make the expeirence of using an iPhone more fun and exciting.
Read on to learn about Social Downloader, Pokèbox, LSTweak, Rofi, DockX 13 and TabBaraptic. Keep reading to find out what these hacks do and how you can download them on your jailbroken iPhone, iPad or iPod touch.
Social Downloader Tweak: Download Photos, Videos Or Stories from your favorite apps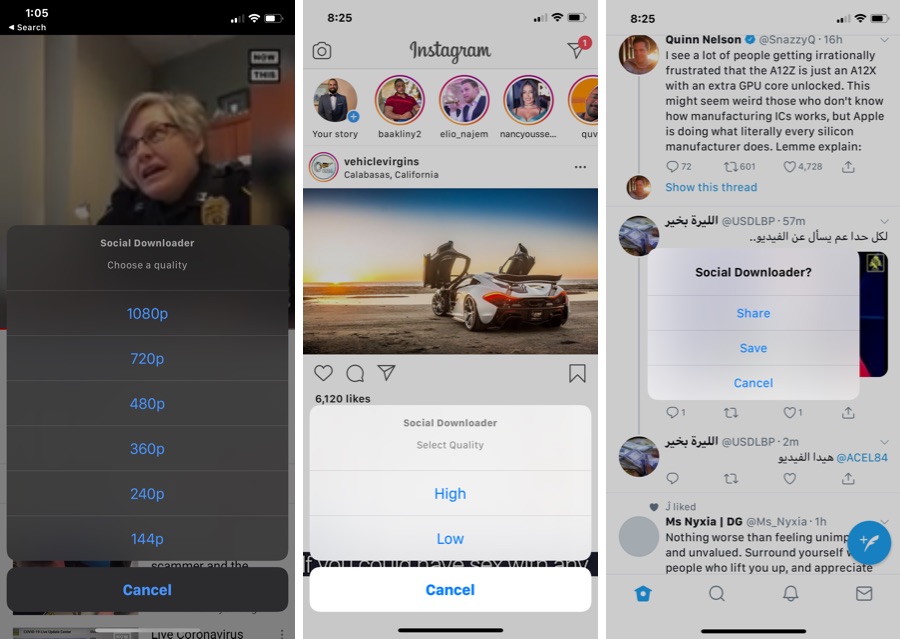 The Social Downloader tweak lets you download the forbidden content from your favorite social app. The tweak supports YouTube, WhatsApp, Twitter, Instagram, Facebook and Tumblr. With this tweak you can download photos, videos and stories by long pressing on the or clicking on the menu buttons and then hitting the Save option. You also get to select the quality of the download. For example, you can download YouTube videos in the resolution of your choice. Social Downloader tweak is available through the Packix repo for free and works with iOS 13.4 or older.
PokèBox Tweak: Add Pokèmon style notifications to iPhone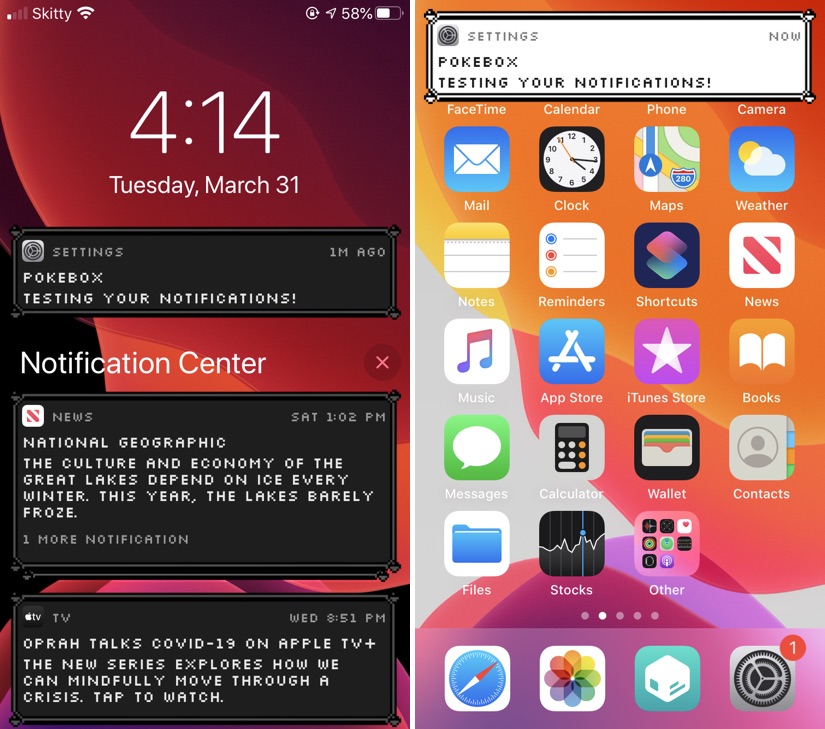 Pokèbox is a must have tweak for every Pokèmon fan out there. This tweak brings Pokèmon style notification banners to the iPhone, giving you an authentic Pokèmon experience. The tweak also offers animated text option that will make the text appear in the same way as it does in Pokèmon. You can download the Pokèbox tweak from the Skitty repo (https://skitty.xyz/repo) where it is available as a free download. The tweak supports iOS 11 up to iOS 13.
LSTweak Tweak: Change the appearance of date and time widget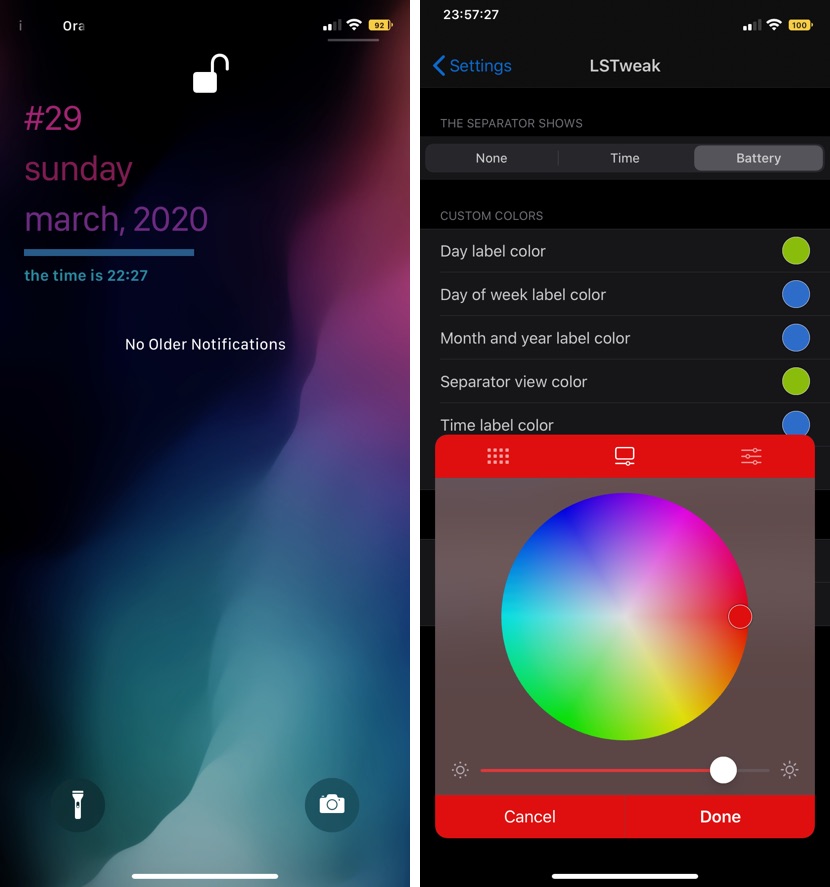 Using the LSTweak you can change the way date and time widget looks on your iPhone's lockscreen. With this tweak you can change the appearance of the date and time, change its color, add separators between different types of information and more. LSTweak also enables users to change the color of the time widget based on when the device is charging, running low on battery or when Low Power Mode is enabled. You can download LSTweak from Packix repo where it is available as a free download.
Rofi Tweak: Add an app launcher to your iPhone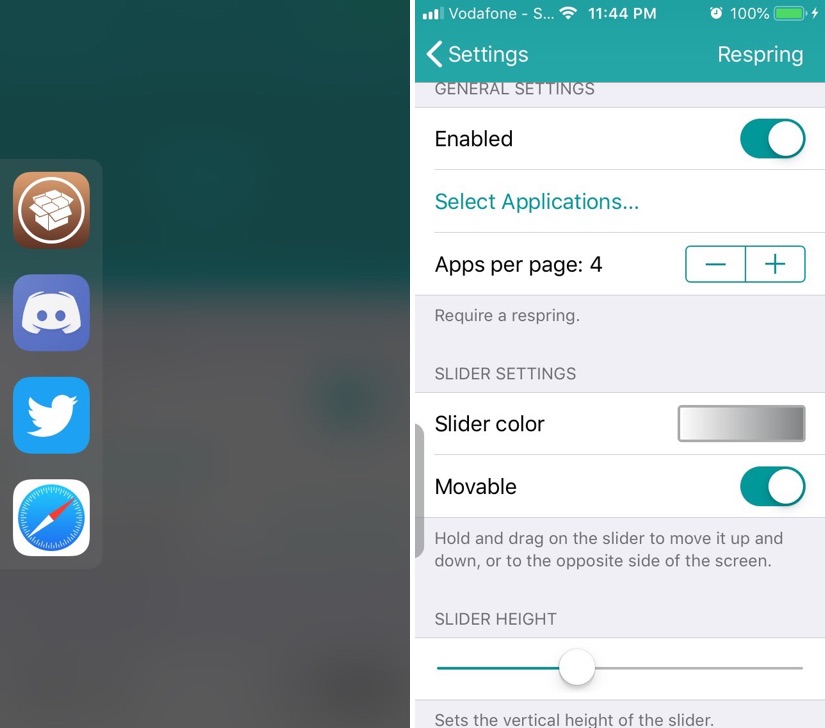 If you're looking for an app launcher that would allow you to quickly launch apps from anywhere, the Rofi tweak is for you. With this iOS hack you can store different app icons in a launcher. You can choose which apps you want to include in the launcher and number of apps that should appear in it. You can also change slider's color, if it can be moved and slider height. You can download the Rofi tweak on any iOS 12 or iOS 13 device from the BigBoss repo, where it is available for free.
DockX 13 Tweak: Add iPhone X like dock to iPhone 8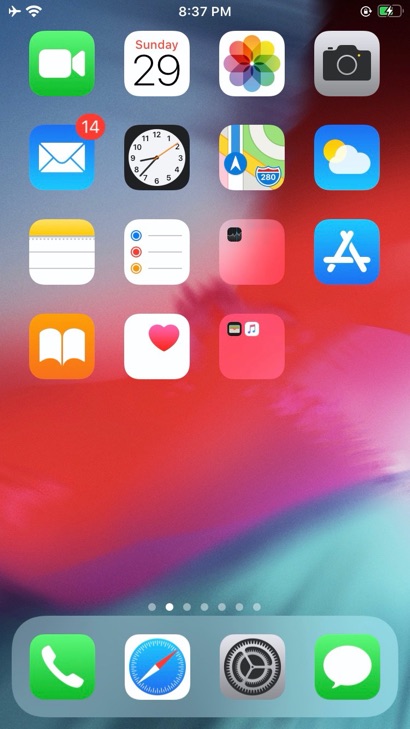 The DockX 13 tweak brings the iPhone X inspired dock to home button devices. On iPhone X or later iOS has an icon dock with rounded corners. After installing this tweak you will be able to get the same iPhone X dock on iPhone your iPhone 6, iPhone 6s, iPhone 7 or iPhone 8. You can download DockX 13 tweak on any iOS 13 device from the BigBoss repo, where it is available as a free download.
TabBaraptic Tweak: Adds haptic feedback to tab bars
The TabBaraptic tweak for jailbroken devices extends the Haptic Feedback feature and brings it to tab bars. After installing this tweak your iPhone will give you a haptic feedback when you are tapping on the Tab Bars inside apps. The tweak works with all devices that have Taptic Engine support, which includes iPhone 6s or later.
There you go folks, these are some of the newly released jailbreak tweaks for iOS 13. Let us know which tweak is you favorite in the comments section below.
Disclosure: iOSHacker may receive a commission if you purchase products through our affiliate links. For more visit our privacy policy page.