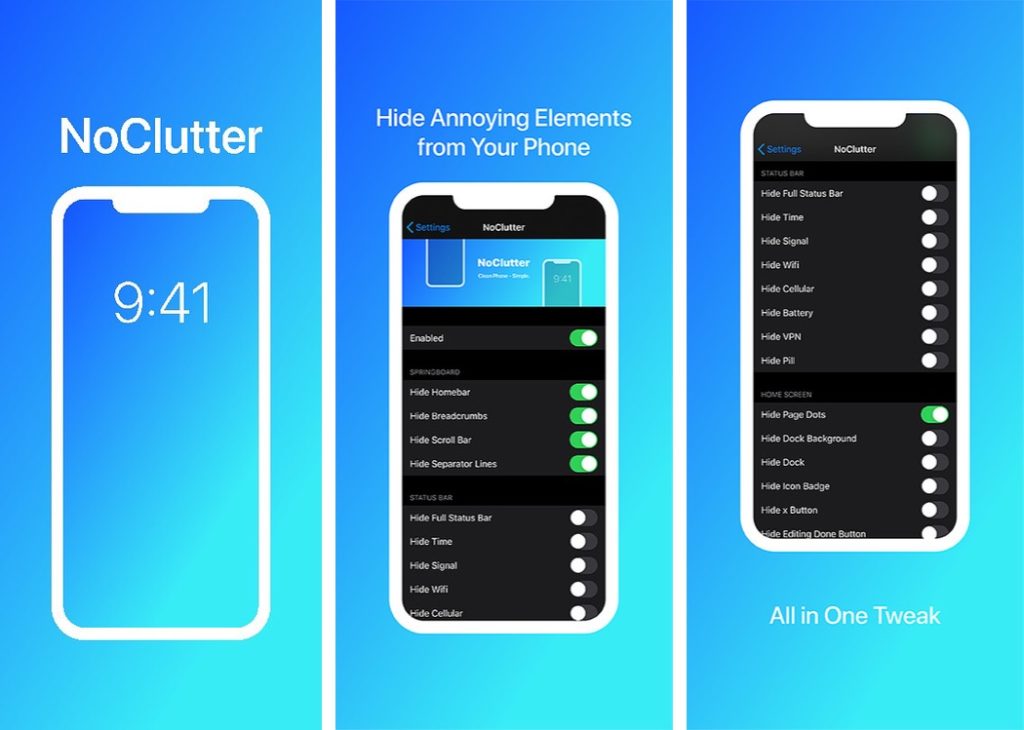 iOS is full of annoyances and clutter that many users would like to remove from their devices. While stock iOS users don't get much choice when it comes to the ability to hide clutter, jailbroken device users have plenty of options up their sleeves.
A newly released tweak called NoClutter makes it possible for iPhone and iPad users to hide elements of iOS that they don't like.
What makes NoClutter tweak different from many other tweaks that allow users to remove UI elements of their device is that it is one of the most comprehensive one out there.
With NoClutter tweak you get tons of features and options to disable UI elements of iOS that you don't like or deem unnecessary.
With NoClutter you can remove items from the springboard, home screen, status bar, lockscreen, Folders, Safari, App Switcher and more.
Some of the big things you can disable with this tweak include homebar on newer iPhones, completely hide status bar, remove time, VPN icon, battery icon, remove Wi-Fi and more.
You can also use it to hide dock, dock background, icon badges, update dots, notification center text from lockscreen etc.
The tweak even lets you hide annoying elements from Safari browser. With NoClutter tweak you can remove things like close tab button, search background color and website favicons.
NoClutter is packed with options and gives users full control over what they want to show and hide from their device. All of the toggles are available through tweak's preferences page.
NoClutter tweak is available under the Twickd repo for free. It works with all versions of iOS 13.
Also read: