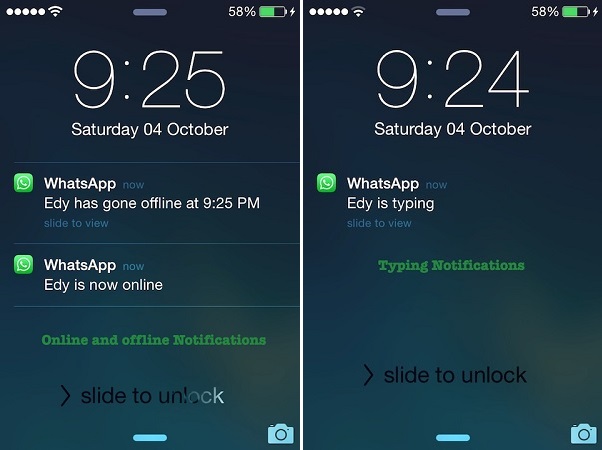 Regardless of which platform you look at, WhatsApp would be the most popular mobile messaging app out there. Same is true with iOS, whose users love to use this application to chat with their friends. If you are a WhatsApp user then you should check out the awesome jailbreak tweaks that are available for this app. And today joining that ever growing list is OnlineNotify tweak, which allows users to know when their friends become online or go offline on WhatsApp, when they start typing on the conversation thread and more. The tweak sends a notification to the user in the form of banner or lockscreen alert in case your device is locked.
OnlineNotify lets you choose friends that you want to monitor, once you do that you will receive alert when their status changes. The tweak comes with two alert types that you can enable or disable from settings. The inside alerts only work when the app is running on the front, while the outside alerts as their name suggests also work when you are using some other application or when your device is locked. If you don't want too many notifications bothering you then choosing inside only option is better for you.
It also adds a green 'Online' indicator in favorites list signifying a contact is online at the moment. It even replaces the statuses or taglines of other users with their 'Last seen' time on the favorites page.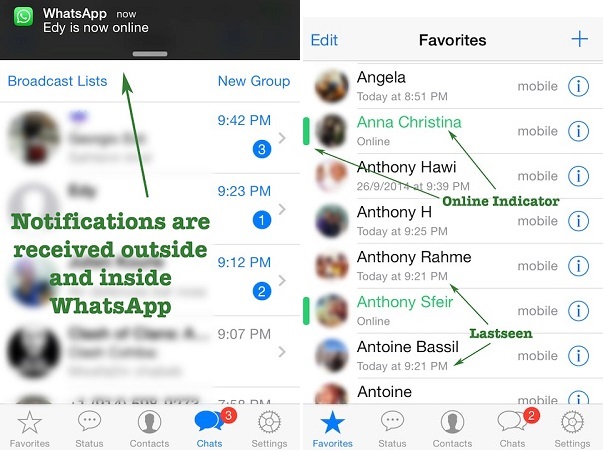 While OnlineNotify is great there are a few issues with this tweak that you should be aware of. The most important one is that since the tweak is constantly using WhatsApp to gather information about your selected friends, you will also appear 'Online' all the time, even when you have closed the application. Another issue is that this tweak obviously requires an active internet connection to work, so when your iPhone automatically turns off WiFi (that happens after few minutes after you lock the device), OnlineNotify will also stop working. A silver lining in that is you will save battery when you are not using your iPhone.
The instructions on how to use OnlineNotify are available on tweak's Cydia description page. You can download it from Cydia's BigBoss repo for $1.99. It requires WhatsApp 2.11.14 to work.
Also read: These are the best WhatsApp alternatives for your iPhone: LINE, Kik Messenger, BBM, Telegram Messenger and WeChat
Disclosure: iOSHacker may receive a commission if you purchase products through our affiliate links. For more visit our privacy policy page.