Siri is getting more powerful with every iOS release. This is evident with the release of iOS 8, which gave Siri many new features, including the ability to recognize songs that are playing around it. Siri uses Shazam to correctly guess the song. The virtual assistant even gives a 'Buy' button making it possible for the users to purchase the song without any hassle. If you use Siri to recognize songs often and would like to have an easier and quicker way to launch it then a new tweak called 'What's this song, Siri?' can help.
What's this song, Siri? tweak lets users choose an Activator gesture or action that they can perform to launch Siri's music listening capabilities. After assigning the gesture you can simply invoke Siri directly in song recognition mode by performing it, at this point the virtual assistant will listen to the music playing in the background and try its best to recognize it for you. To assign any action or gesture to this tweak just go to Activator Settings and look for the one you want to use, then select the tweak from the list.
Normally, you have to invoke Siri by long holding the home button and then ask it to recognize the song using a voice command, which is a long process. This tweak also solves the problem that occurs when you want to find about the currently playing song, that is playing too loud and you can't tell Siri to recognize it by simply using voice commands.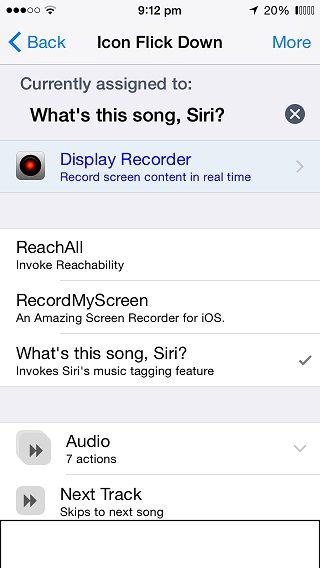 Siri's music recognition function i.e. powered by Shazam works impressively well and guesses the correct song most of time. This tweak makes using this built-in feature of iOS even more useful.
You can download the What's this song, Siri? tweak from Cydia for free. It requires iOS 8 to run.
P.S: Read Siri's hilarious interpretation of the song's lyrics in first screenshot.