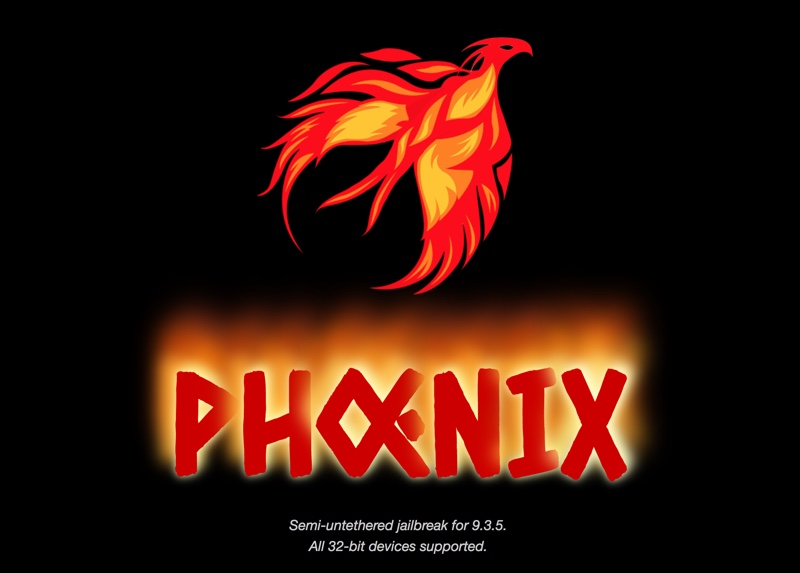 A new jailbreak tool called Phœnix has been released, which makes it possible for users of legacy iOS 9.3.5 operating system to jailbreak their devices. Phoenix, which has been created by tihmstar and Siguza is capable of semi-jailbreaking a 32-bit iPhone, iPad and iPod touch.
While this release won't mean much to those who own latest iOS device models, it is a big news for users who have older models that are still running iOS 9.3.5, the operating system version that was released back in August 2016. Since iOS 9.3.5 is most likely the final iOS version that will ever be released for many 32-bit devices, having a jailbreak for it will make older devices more useful.
Just like most jailbreaks that have been released lately including yalu102 for iOS 10.2, Phœnix is semi-tethered. This means user will need to launch an app to activate the jailbreak on every reboot. This situation is not ideal, however it is much better than a tethered jailbreak, which requires users to connect jailbroken device to a computer for activation after every reboot.
Cydia Extender tool is not working on iOS 9, so users who don't have a paid Apple developer account will have to side-load the jailbreak app every week to keep the jailbreak functional.
The tfp0 is also included in the tool so it will make it possible for users to downgrade to earlier firmwares provided user has saved their device's SHSH blobs.
The devices that can take advantage of this jailbreak include iPhone 4S or earlier, iPod touch 5th generation or earlier, iPad 3rd generation or earlier and iPad mini original.
If you have a 32-bit iPhone, iPad or iPod touch that is running iOS 9.3.5, then head to the link below and download the Phœnix tool. You can use the Cydia Impactor tool to install the jailbreak. Instructions are given below.
Here are the instructions from the official Phœnix website.
Download the IPA.
Download Cydia Impactor.
Connect your device to your computer.
Start Cydia Impactor and drag the IPA onto the top field.
Enter your Apple ID credentials.
On your device, go to "Settings > General > Device Management" and trust the certificate.
Run the app and tap on "Prepare For Jailbreak".
Wait for it to respring, then launch Cydia from the Home Screen.
Whenever you reboot, open the app again and tap on "Kickstart Jailbreak".
Whenever the app expires, install it again with Cydia Impactor.
Disclosure: iOSHacker may receive a commission if you purchase products through our affiliate links. For more visit our privacy policy page.