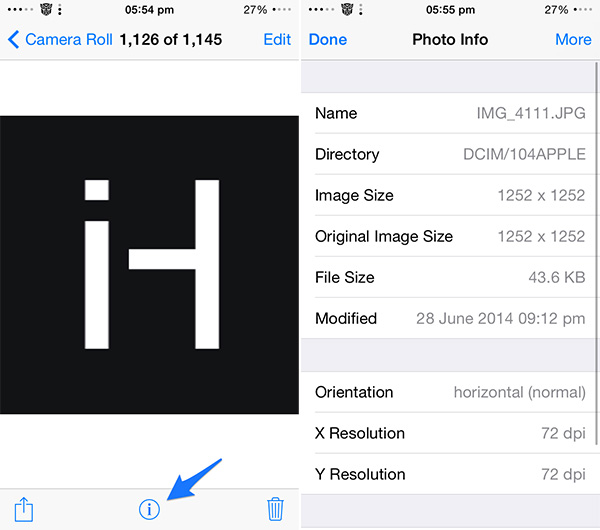 Photography is one of the most popular uses of the iOS devices, especially iPhone. iPhone delivers a powerful camera to take stunning photos. However you might be surprised to know that iOS doesn't allow you to see the details of an image. You can't even see the name of a photo or video in the stock Photos app. But you are in luck if you own a jailbroken iOS device. Photo Info tweak adds the missing button to get the detailed info of each photo/video in the Photos app.
This tweak simply adds an info button (i) in the photo/video view of the Photos app. Once you tap this button it will show you all the details you need to know about your photos or videos. You can view the name of photo, directory where it is stored, resolution, size, orientation, color space and much more. It also tells the coordinates of the location where the photos were taken. Moreover it also allows you to view that location in the Maps app.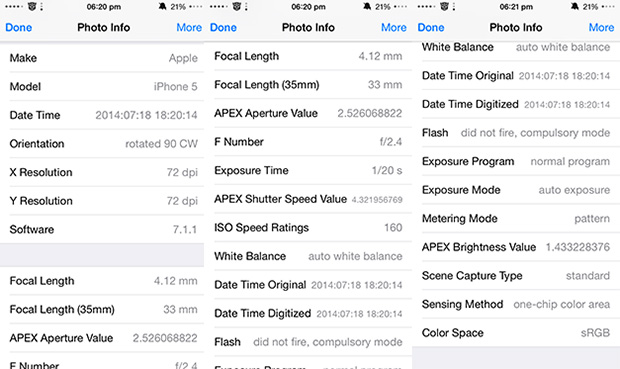 This info gets doubled when you tap the info button (i) for a video. Besides all the details mentioned above it also shows you the model of the iOS device, focal length, APEX Aperture value, F Number, Exposure Time, white balance, sensing method and much more for a video.
You can also enable/disable the time stamps by tapping the 'More' button at the top right corner of the info page. Once you enable it, you will get the date and time of the photos in a translucent bar at the bottom while you browse through your photos.
Photo Info is a must have tweak and you can get it for free from Cydia. It supports all devices running iOS 5 up to iOS 7.1.x.