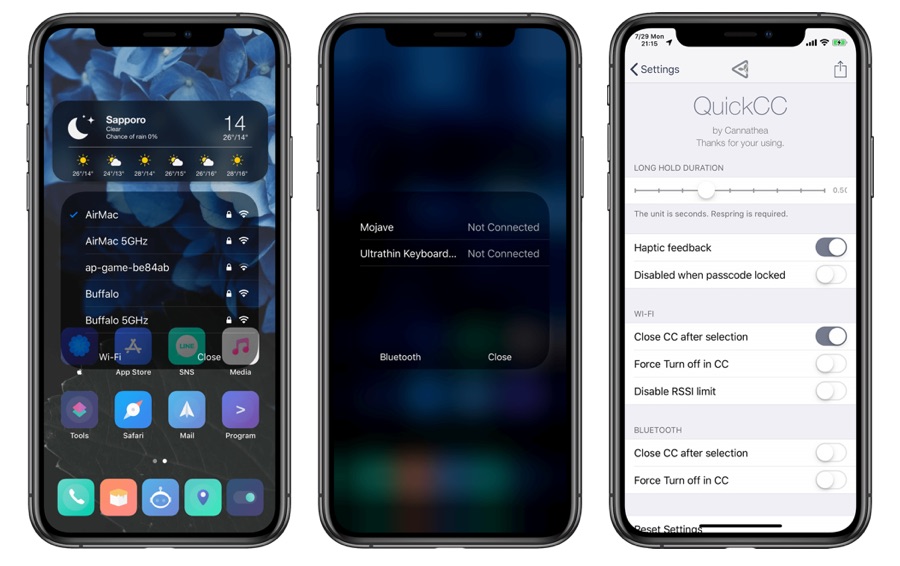 iOS 13 adds new Wi-Fi and Bluetooth menus to the Control Center. These new menus can be accessed after expanding the toggle menu and then long pressing or pressure tapping on the Wi-Fi and Bluetooth toggles. Using the new menus iOS 13 users can control Wi-Fi and Bluetooth settings right from the Control Center, as they can easily connect to any available network or Bluetooth device right from the menu.
We really liked the new shortcut menus found inside the Control Center as they make it easier for users to connect to new devices and networks without leaving the app they are currently using. The QuickCC tweak brings iOS 13-inspired Wi-Fi and Bluetooth menus to iOS 12 and earlier. With this hack you can add similar menus to your iOS 12 or iOS 11 powered iPhone and make accessing list of Wi-Fi networks and Bluetooth devices easier.
Once installed QuickCC works in the same way as the iOS 13 implementation, where users can long press on the Control Center toggle menu to expand it. Then once its is expanded they can long press on the Wi-Fi button to access the Wi-Fi menu and similarly long press on the Bluetooth menu in order to access a list of available Bluetooth devices. Both menus also have dedicated Wi-Fi and Bluetooth buttons that allow users to access Wi-Fi and Bluetooth Settings pages more quickly.
You can download QuickCC tweak from Cydia or Sileo by adding 'https://cydia.ichitaso.com/' to your sources. It is available for free and supports iOS 11 and iOS 12.
Disclosure: iOSHacker may receive a commission if you purchase products through our affiliate links. For more visit our privacy policy page.