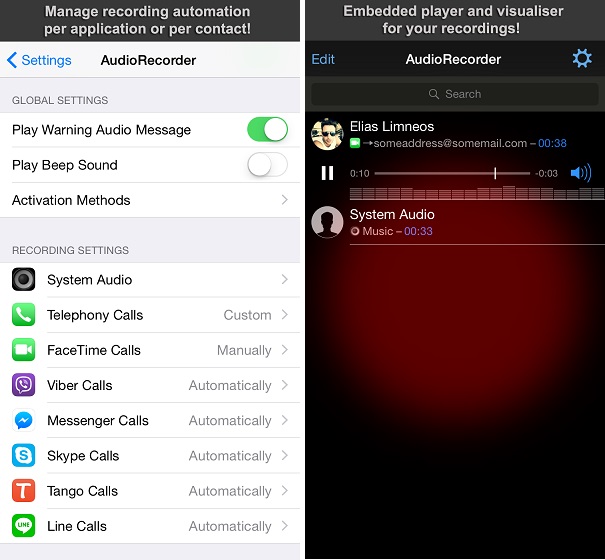 If you have been looking for a Cydia tweak that would let you record phone calls then stop looking and download the new AudioRecorder 2 tweak now. The tweak not only lets users record audio calls on their iPhone and iPad but also lets them record system audio, which means you can record any audio coming out of your iOS device. AudioRecorder 2 comes with tons of features and options that make it a worthy download and is much more powerful than the stock Voice Recorder app found on iOS.
With AudioRecorder 2 you can record audio for normal phone calls, Facetime audio and video calls, calls made on apps like Skype, Viber, Tango, LINE etc. On top of that you also get the ability to record any audio coming out of your device, something that is not possible with the stock recording app. The best thing about this tweak is that it keeps all the recordings safe on your device's local memory. You can also activate the sync feature that will automatically transfer new records to your Dropbox or Google Drive accounts. Recordings can be shared with anyone, transferred to a PC as well as exported to third-party apps.
The tweak is packed with many handy features out of which my favorite is the ability for users to assign any contact to always record. Once you do that any call coming from that particular contact will be recorded and stored automatically. Users can also configure recording automation on app basis. So you can record all calls made on Skype while keeping the process manual on other applications.
Another useful feature of AudioRecorder 2 is that it can play a recorded message for your caller to let them know you are recording the call. You can turn this option on or off based on your personal preference.
To get AudioRecorder 2 tweak on your jailbroken device simply add http://limneos.net/repo to your Cydia sources. This is a free update for owners of the previous version whereas it costs $3.99 for the new users.