If rumors and leaks are to be believed, then iPhone 8 is going to have a camera notch on the top. And to hide that notch Apple is going to make the iOS status bar black. But if you are longing to have a black status bar on your current iPhone and that iPhone happens to be jailbroken, then the Black Status Bar tweak can help.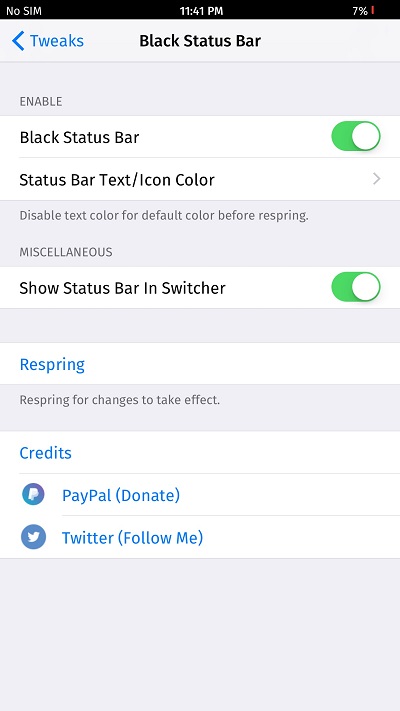 With Black Status Bar tweak installed your iPhone's status bar will become black on the homescreen as well as in applications. The change can be seen consistently system wide. In addition to making the background of the status bar black, the Black Status Bar tweak also allows users to change the color of the text and of status bar icons.
So you can access the tweak's settings and choose the color of your choice for the status bar icons and texts. When you choose a color the time, cellular signals, battery indicator, Wi-Fi signals, Bluetooth icon and other indicators will appear in that color.
The Black Status Bar tweak is compatible with iOS 7 all the way up to iOS 10 and can be downloaded from Cydia for free.

Croutons is another status bar tweak that changes the way it looks. With Croutons tweak you can fancy up the breadcrumb feature of iOS 9 and iOS 10 by replacing the boring app name from the status bar back button with that app's icon. So if you go from one app to another its breadcrumb trail button in the status bar will show its icon alongside the back button. You can simply tap on it to return to the previous app.
Croutons tweak is available in Cydia for free and works with iOS 9 and iOS 10 powered devices.