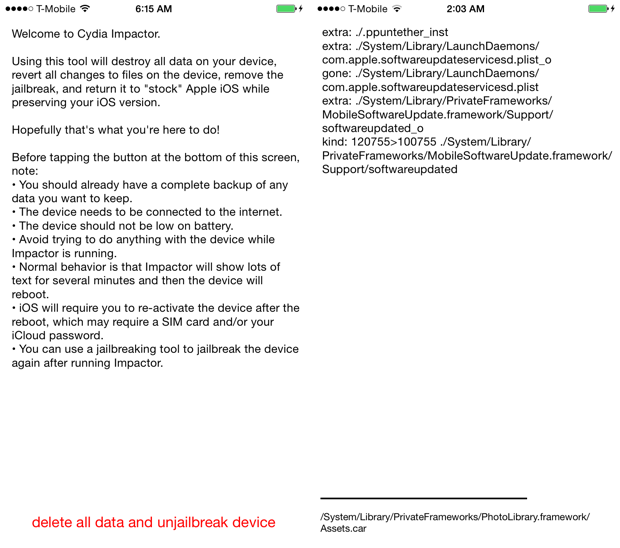 Here comes yet another big news for all the jailbreakers out there. Saurik has released the Cydia Impactor to "unjailbreak" almost all the jailbroken devices running iOS 8.3 or 8.4. So what's special? It has a huge impact because you won't need to restore or upgrade your iOS device to "unjailbreak" it. No more worries to lose the jailbreak by upgrading your iOS device to the latest firmware.
Cydia Impactor is available at Cydia for free. All you need is to download and install it. Once ready you can "unjailbreak" your iOS device using a single tap. You will only need a working Internet connection, no computer or wires are required for this task. Isn't it magical? One thing to keep in mind before proceeding with the unjailbreak, it will remove all the data on your iOS device, all the tweaks, apps, photos, videos etc. So you are advised to backup your data completely. Once done you will need to re-setup the whole device just like you do when you restore it.
This new tool uses official OTA firmware archives to repair the damaged iOS files to restore your device back to its pure state. This is a really useful tool if you are facing problems with your jailbreak, or want to sale your device without going through the long restore/upgrade method.
Cydia Impactor is compatible with all the jailbroken devices running iOS 8.3 or 8.4 except the new iPod touch 6th generation, because currently there are no OTA updates available for the device.
If you are planning to re-jailbreak your device then you can follow our step-by-step jailbreak guide here.