The Messages app on iOS has a nice sharing feature that enables users to share photos and videos with their friends. While this feature is great and works flawlessly it is very limited when it comes to things you can share with it. A new tweak called iMAllFile makes it possible for users to share any file they like to their iMessage friends right from their iPhone or iPad. The tweak natively integrates with the stock Messages app to add the extra feature. It also includes a built-in file explorer that lets users browse through and choose any file stored on their device's file system.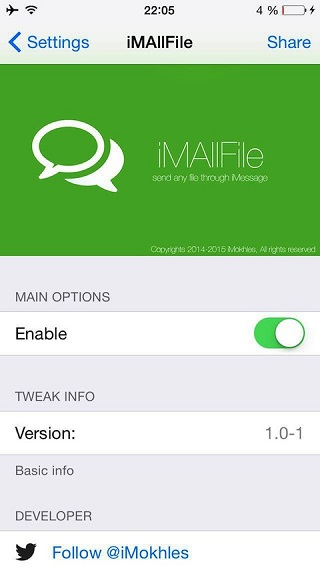 Since iMessage is not limited to iOS devices only and users can chat as well as share files with their friends who are using a Mac, this feature becomes more useful when you want to transfer files to someone on a computer or even yourself.
After installing the iMAllFile tweak you will find a new button on top navigation bar within the Messages app. When you tap on it a file system browser will open that will let you go through your files. Once you have located the file you want to send through iMessage you can simply select it.
iMAllFile brings a nice feature that I am sure many iOS users have been wishing to have for a while. You can download this tweak from the BigBoss repo for $0.99.