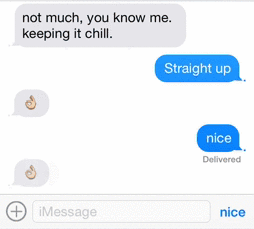 Another popular tweak originating from iOS 7 days has been updated to support iOS 8. The Brevity 2 tweak just like the original version allows users to quickly send a reply to a friend in iMessage. With this tweak users can create a quick message, which appears next to the typing field. To send it user simply has to tap on the button and that message will be sent to the user you are chatting with.
Although Brevity 2's quick message replaces the microphone button that you can use to send audio message, you can get it back by typing something on the text field. The custom message button only appears when no text is entered by the user. Also, if you want to send a voice message you can tap and hold on the message button just like you normally would to record your audio.
The primary advantage of this tweak is that you don't have to type the messages you use a lot again and again. For example, if you use words like 'nice', 'lol' or 'okay' in your conversations many times then you can add that word using Brevity. An emoji can also be used instead of a word so you don't have to change to emoji keyboard again and again just to enter one smiley.
You can watch the video demonstration of Brevity in the video below. If interested, you can purchase Brevity 2 (iOS 8) for $1. If you are on iOS 7 then don't forget to check out Brevity (iOS 7).