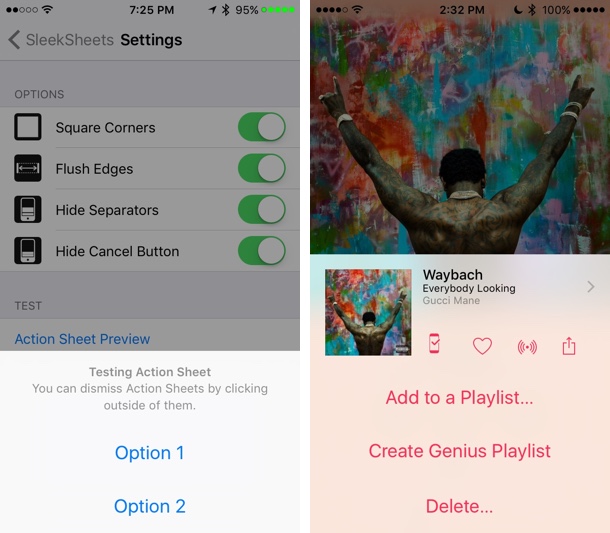 Would you like to change the appearance of iOS action sheets and perhaps want to make them simpler and flatter? If yes, then try the new SleekSheets tweak from Cydia. The new iOS 9 compatible tweak allows users to make the action sheets flat and make them appear edge to edge, significantly changing their usual floating sides and rounded edges. With SleekSheets installed you get to customize the appearance and choose what aspects you want to change and which ones you want to keep.
From SleekSheets' preference panel you can enable or disable different customization options. This includes the choice of having square or rounded corners. Normally iOS action sheets have rounded edges but with this option enabled they will appear as they do in the screenshots above. You can also have flush edges enabled, which will make the menus edge to edge instead of floating in the middle of the screen. Other changes include ability to hide the separator lines between different options and hiding the 'Cancel' button from the menu. Not having the Cancel button wouldn't make much of a difference anyway since you can dismiss the menu by tapping on the area above it.
You can download the SleekSheets tweak from Cydia for free. It works with iOS 9, however compatibility with older iOS versions is not known. If you are running iOS 7 or iOS 8, then do try this tweak and let us know if it works for you in the comments section below.