New day and a new set of Cydia tweaks are available for our downloading pleasure. Today's tweak roundup includes some really nice hacks that focus on different sections of iOS. Some of them change the way how iOS looks while others allow the users to customize the third party applications. In this article we have included BrightPlayer, ChargingHelperPlus, No Glint, NoSafariTopBlur, PrivateSMS, Portrait Lock, QuickReplier for Viber and QuickYo.
BrightPlayer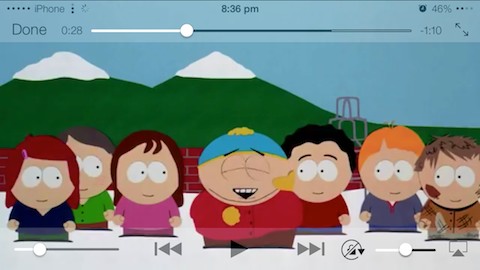 If you use your iPhone, iPad or iPod touch to watch videos a lot then you would have noticed that activating the portrait lock and adjusting the brightness settings to match the video's content can be a very annoying experience. BrightPlayer tweak fixes that issue by allowing users to increase or decrease brightness directly from the Video app's or Safari's video overlay. The tweak also includes a button that you can tap to quickly activate the rotation lock. You can get BrightPlayer from Cydia for free.
ChargingHelperPlus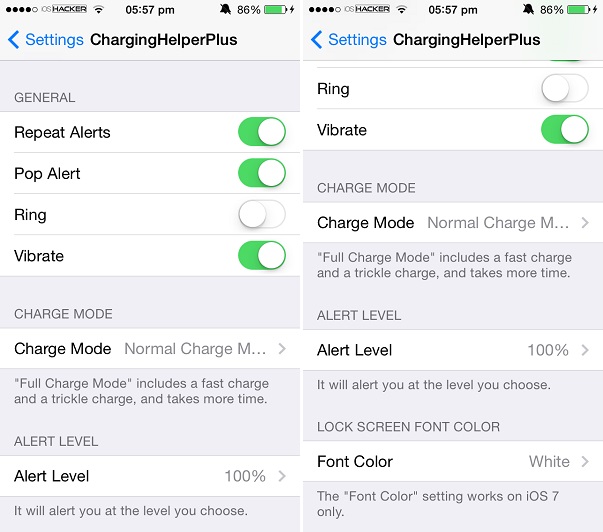 ChargingHelperPlus is a great tweak that gives you useful notifications about the state of your device's battery. It notifies the user when a certain level of charge has been achieved on his or her device while it is plugged into a power socket or computer. The tweak gives pop alerts, which are accompanied by vibrations and rings. It can be useful if you are in a hurry and just need to recharge your device to a certain level. It also displays estimated time left for your iOS device to be fully charged on the lockscreen. The tweak also adds the 'My Battery' app to the homescreen that shows useful information about the device's battery. Please note that although the screenshots of the tweak show screenshots in Chinese language, it works fine on devices that have English language as default. ChargingHelperPlus is available for free.
No Glint
No Glint is a simple tweak that removes the highlight animation that goes on the 'Slide to Unlock' text on the lockscreen. You can get it for free from Cydia.
NoSafariTopBlur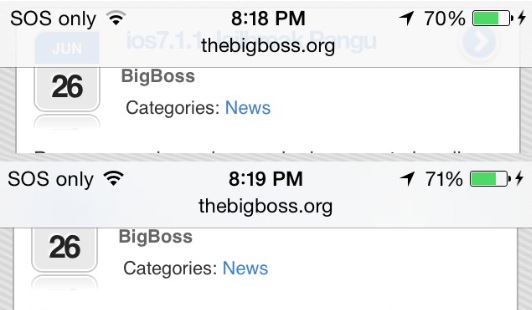 NoSafarTopBlur removes the blurry effect in Safari's top bar that allows you to see through the bar and have a peak at the scrolling content while you go up. With this tweak installed the top bar will only appear in white color. You can get this tweak for free.
PrivateSMS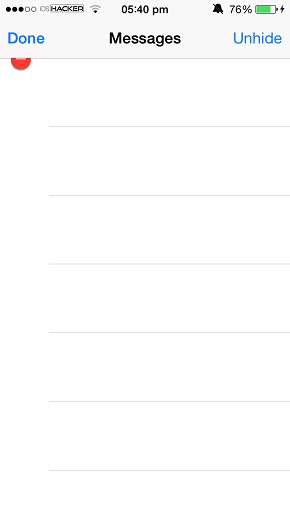 PrivateSMS is a similar tweak to HiddenCallLog7, which we feature in a similar tweak roundup a few days ago. The difference is that with PrivateSMS you can hide your text messages by tapping on the 'Edit' button and make them appear again by doing the same thing. You can download PrivateSMS for free from Cydia.
Portrait Lock
With Portrait Lock you get the ability to automatically enable the rotation lock when certain apps are launched. You can select the apps where you want to enable the rotation lock by going into tweak's settings. It is available for free.
QuickReplier For Viber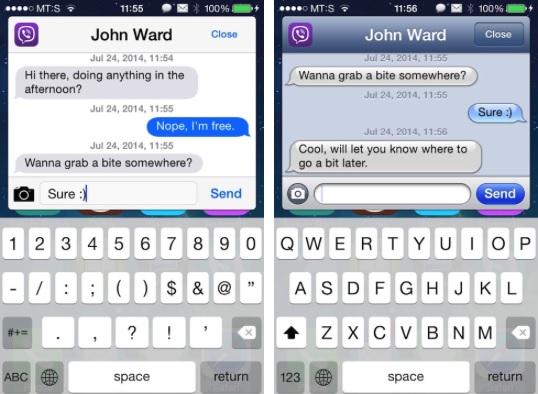 QuickReplier For Viber is a Couria based quick reply tweak for Viber. With this tweak you can instantly reply to messages sent to you via Viber without even launching the app. This tweak even supports themes that are available for Couria. If you use Viber for texting a lot then this tweak is a must have. QuickReplier For Viber is available in Cydia for $2.99.
QuickYo
Are you using that crazy Yo app? If yes then QuickYo can make the experience even more fun. It allows users to quickly reply to Yo sent to them by their friends by tapping on the notification banner. When you tap on the banner, the 'Yo' reply will be sent to the person who sent you that particular Yo.
Disclosure: iOSHacker may receive a commission if you purchase products through our affiliate links. For more visit our privacy policy page.