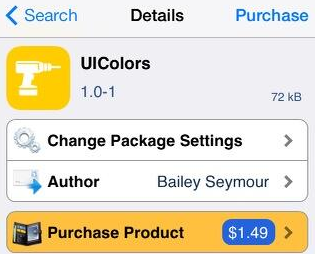 If you compare iOS 7 with iOS 6 things look very different since Apple has added many new features in it. In addition to these new features we also see Apple has replaced the old style with new and more attractive user-interface, redesigning almost every part of the operating system. But it would be more interesting if we could customize and add colors of our choice to the current interface of iOS 7.
A new jailbreak tweak called UIColors by developer Bailey Seymour brings our dream to life. With this tweak you can freely edit your iOS 7 UI elements as much as you want and also colorize your applications. There are many users who do not like to use the themes found on Cydia. If you are one of them UIColors is really suitable for you.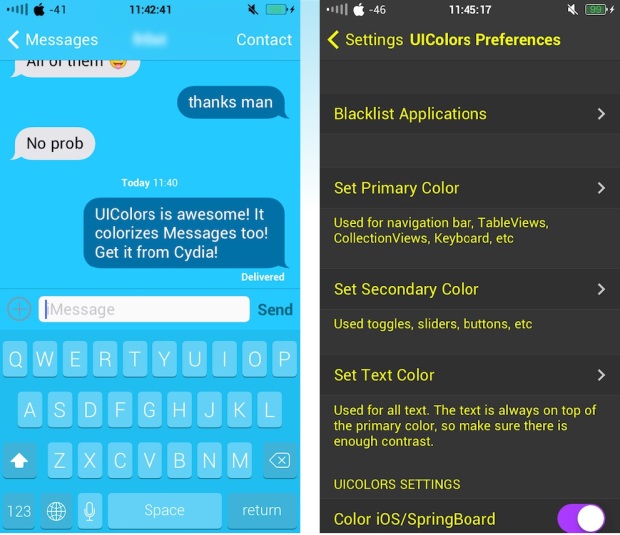 Moreover UIColors can also replace tweaks such as BlueBloard (changes your keyboard to blue) because you can decorate the keyboard color of your favorite without installing extra tweak from Cydia. Below you can find a list of apps and parts of iOS 7 UIColors has affect on:
+UIColors colorizes the following UI Elements:
-Table Views
-Keyboard
-Control Center
-Notification Center
-Navigation Bars
-Grid Views
-Tab Bars
-Toolbars
-Music
-Mail
-Phone Dialer
-StatusBar
-Sliders
-Toggles
-Text Messages/iMessage
-WhatsApp
-Many More

Works with Built-in Apps

Works with most AppStore apps!
If this is something you would buy then UIColors can be bought from Cydia's BigBoss repo for $1.49. It's compatible with iPhone, iPod touch, and iPad running on iOS 7 or higher. All configurations are available in the Settings app.