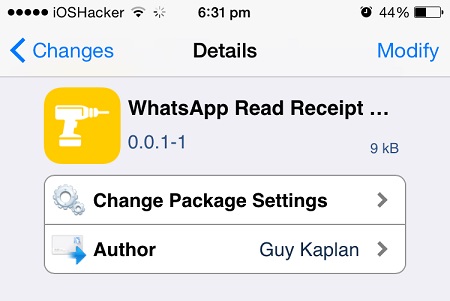 Recently WhatsApp made a huge change in its app by adding the blue ticks, which indicate to the sender that his or her message has been read by the receiver. While it is supposed to be a useful addition to the widely popular messaging app many users don't like it as according to them it disturbs their privacy. Whats even worst than that is it can ruin friendships and cause breakups if you don't reply immediately.
A new Cydia tweak called WhatsApp Read Receipt Disabler solves this problem for iPhone users by simply disabling the blue tick mark feature. So after you have installed this hack the senders will not be able to know if you have read the message or not. Instead they will only see the two grey ticks indicating the message has been delivered just like before.
Installing this tweak does not affect your ability to see whether others have read your messages or not, which makes this tweak as evil as it is useful.
There are no settings to configure and the tweak starts as you install it. You can download WhatsApp Read Receipt Disabler from Cydia's BigBoss repo for free. It works with iOS 8 (perhaps iOS 7 as well) and supports the latest version of WhatsApp.