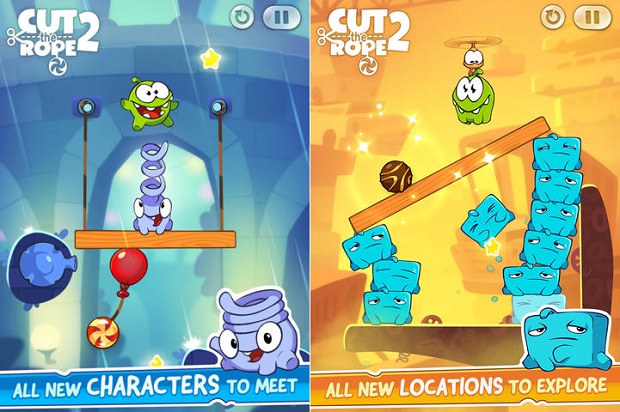 The sequel to one of the most popular iOS games Cut the Rope has arrived. Cut the Rope 2 for iPhone and iPad is now available for download through the App Store. The game features new characters in addition to the beloved Om Nom whom you have to feed the candy.
The game brings new missions, tricks, locations and characters that give Cut the Rope 2 a completely different yet familiar gameplay. There are 120 new levels in the game, 5 new characters, ability to customize the look of Om Nom and more.
Each new character has its own special capabilities as listed below.
Roto can carry Om Nom to the best candy catching locations
Lick can make small bridges with his tongue to help Om Nom reach his goal
Blue can lift Om Nom to new levels of candy hunting fun
Toss can throw objects, including candy
Boo can scare Om Nom to jump to new heights
Cut the Rope 2 for iPhone, iPad and iPod touch is available for $0.99 in the App Store.