Apple's iBookStore is one of the largest online book stores on the planet. It has a huge library of new and old books that users can download on their iPhone, iPad, iPod touch and Mac using their Apple ID. While everything else on the iBookStore was great it lacked the very important feature of book gifting. Well that has changed now as Apple has recently enabled the gifting option on the iBookStore. The gifting feature on the iBookStore is very similar to the gifting feature of the App Store.
This means now you can gift any paid book to your family or friends in just a few clicks. You can easily gift books to your family or friends through the iBookStore from your iPhone, iPad or computer.
Here's how you can gift books through iBookStore
Through the iBooks app on iOS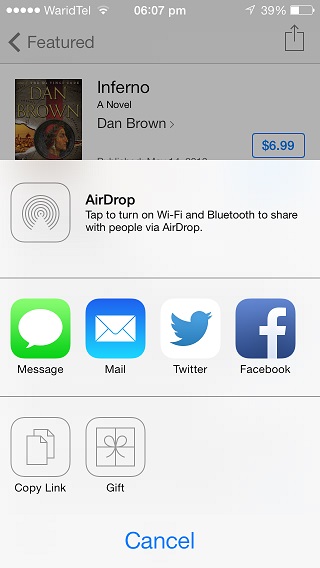 iBooks app for iPhone and iPad, which is available through the App Store not only acts as a reader but it also brings the iBookStore to iOS devices. From now on users can also use this app in order to gift books to other Apple users. Here's how you can do it.
Open iBooks app on your iPhone, iPad or iPod touch and tap on the 'Store' link located on top left side.
Next look for the book you want to gift to another user. Once you have  found it open its description page.
Now is the time to gift the book. Tap on the 'Share' button located on top right side. Now from the menu tap on the 'Gift' button.
Enter the details on the form, which includes user's Apple ID and your name. Once you have entered all the details hit next.
On the next page you will be asked to select a template. Choose the one you like. On the next page confirm your purchase by tapping on 'Buy'.
That's it!
Gifting books through iTunes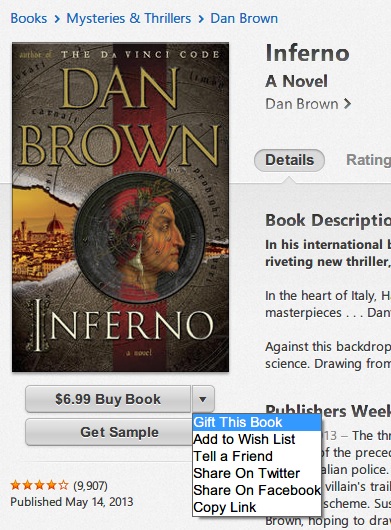 Gifting iBooks through iTunes is as simple as it is on iOS. All you have to do is open the Books section of the App Store and look for the book you want to gift.
Next you can open the Book Description page and click on the small downward pointed arrow present on the right side of the 'Buy Book' button. From the menu click on 'Gift This Book'.
On the next page enter the Apple ID of the person you are giving the gift to, your own name and an optional message.
Hit next and select the template for your digital gift card. Again, hit next button.
Confirm your order by clicking on the 'Buy Gift' button.
You are done!
On the Mac you can also use the iBooks app for this purpose.
Disclosure: iOSHacker may receive a commission if you purchase products through our affiliate links. For more visit our privacy policy page.