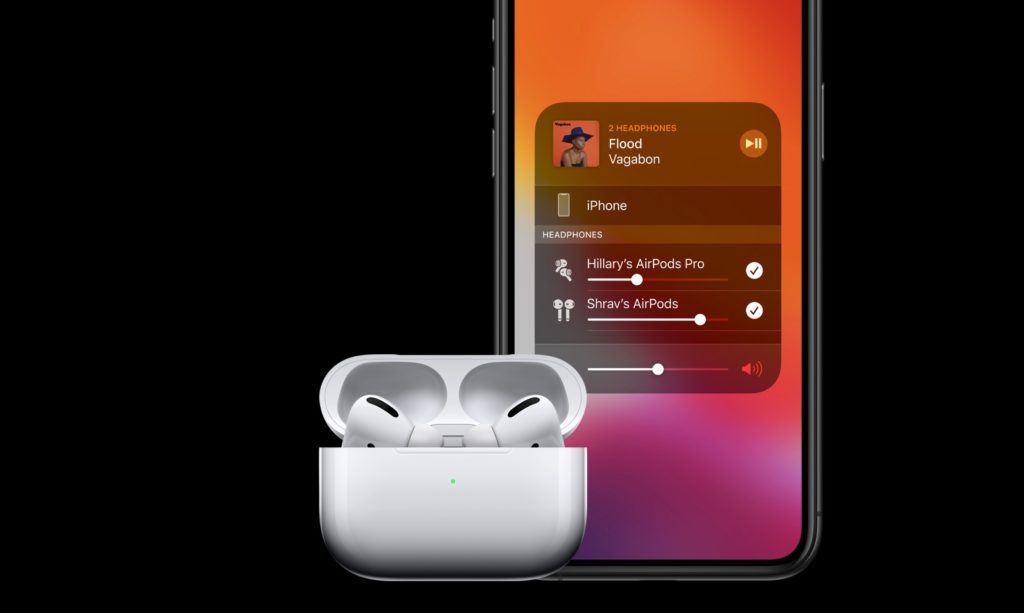 Just like any other Apple product you can add AppleCare+ coverage to AirPods Pro. With AppleCare+ you not only get extended warranty coverage for your headphones but you also get coverage for accidental damage and theft.
Adding AppleCare+ to AirPods Pro is optional but it can be worth the extra cost if you end up having issues with your headphones or damaging them accidentally.
When you buy AppleCare+ for headphones you can get extended two year coverage from the day you purchased AppleCare+.
Let's take deep dive into AppleCare+ coverage for AirPods Pro and how you can add it to your device.
Must read guide: AirPods 3 vs. AirPods Pro: Which One Should You Get
How to check coverage of AirPods Pro
Before we add extended warranty coverage to our AirPods Pro, lets check their current coverage first. When you are buying AirPods Pro from a third-party retailer, it is a good idea to run its serial number on Apple's website to check when its warranty was started.
In many cases the warranty date had already started weeks or even months before you even buy the AirPods Pro. In this case you can head over to Apple's check coverage website and manually change the purchase date after pairing your headphones to your device.
To check current coverage on AirPods Pro simply go to Apple's Check Coverage website and enter your device's Serial Number followed by the CAPTCHA code. You can find the serial number of your AirPods Pro on its box, in Bluetooth Settings of your iPhone and under the lid of the charging case.
After you have entered the Serial number and CAPTCHA code you should be able to see your device's service and support coverage. To check the repairs and service coverage scroll down and check for the 'Estimated Expiration Date'. If this date is exactly one year after the date of your purchase, then you are good to go.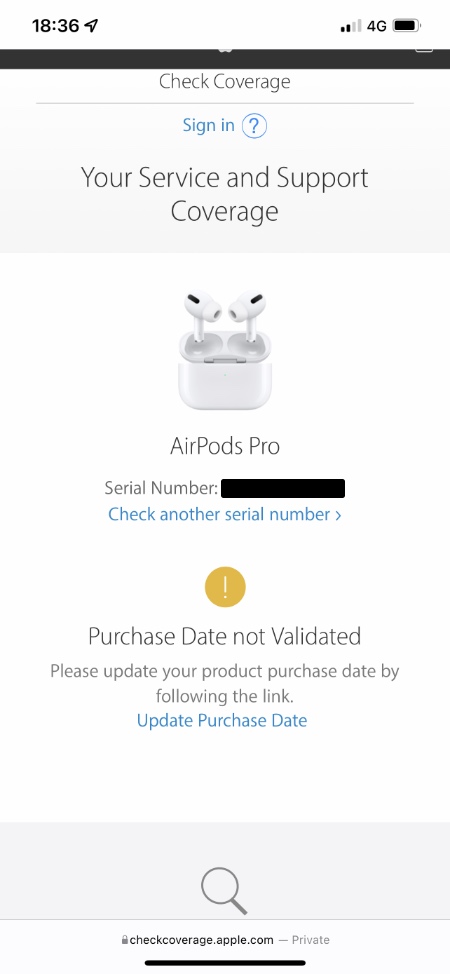 If you are getting Purchase Date not Validated error for your AirPods Pro, then click on Update Purchase Date and manually enter the the date of your purchase. The date you enter will be the starting date for your 1 year free warranty.
How much AppleCare+ Costs for AirPods Pro and benefits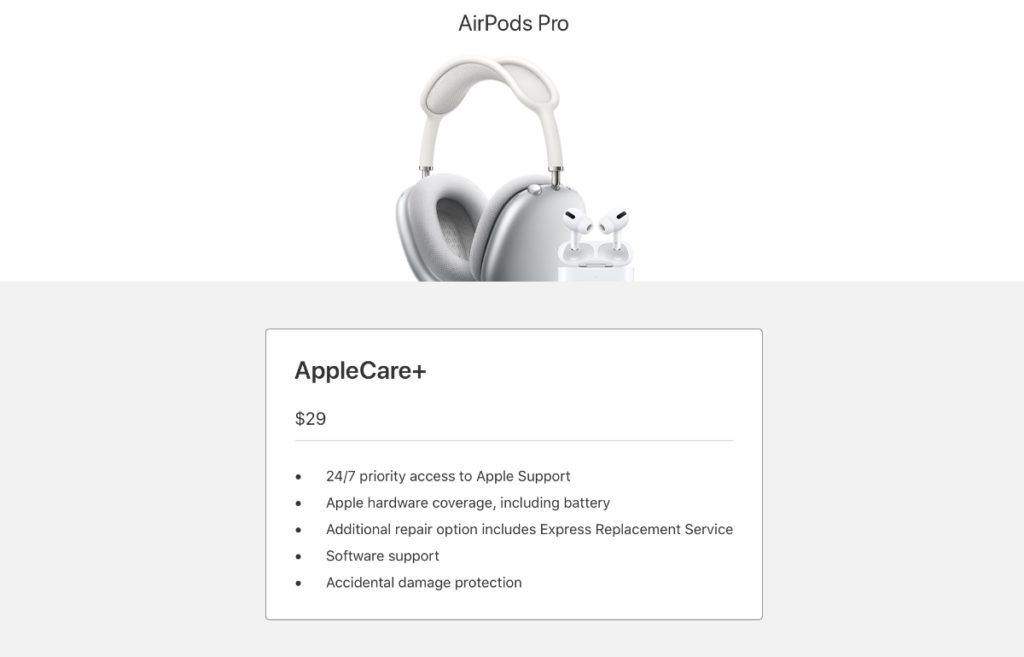 AppleCare+ for AirPods Pro costs $29. When you buy AppleCare+ for your headphones you get:
Apple hardware coverage for two years instead of one
Up to two incidents of accidental damage protection every 12 months
Battery Service coverage that includes service if battery health goes below 80%
24/7 priority Apple Support
Software support
Worried about accidental damage? You can protect your AirPods Pro with these amazing cases.
When can you add AppleCare+ to AirPods Pro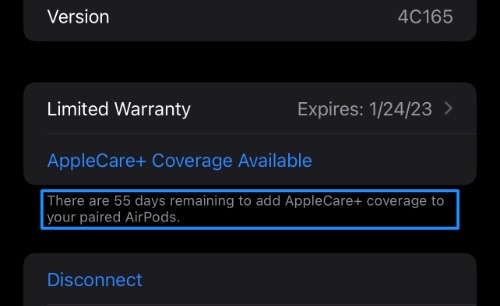 You can add AppleCare+ to your AirPods Pro when buying them from the Apple Store. However you can also add AppleCare+ at a later date. Users get to buy AppleCare+ within 60 days of their purchase or AirPods Pro. After this time has passed they can no longer add extended coverage to their device.
You can check whether your AirPods Pro are eligible for adding AppleCare+ by going to Settings -> Bluetooth -> Tapping 'i' button next to AirPods Pro name and scrolling down. Once you are there look for the remaining days under Limited Warranty.
How to add AppleCare+ to AirPods Pro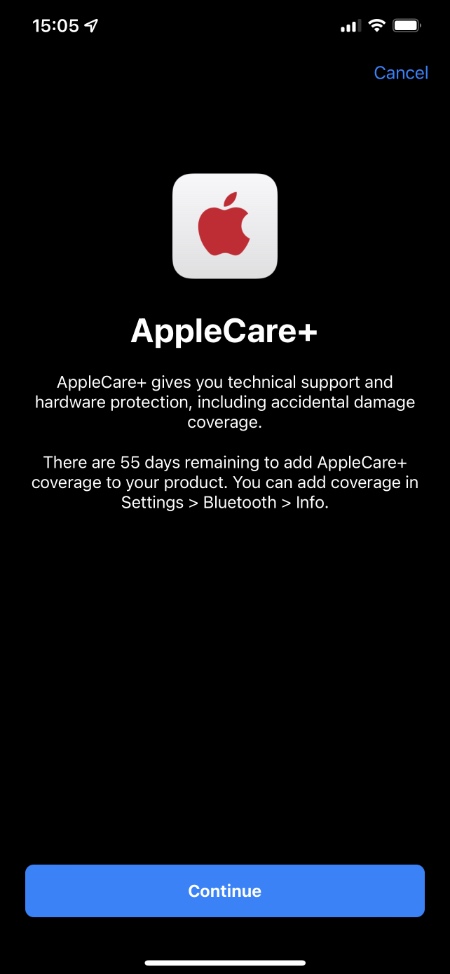 In order to add AppleCare+ to AirPods Pro after the purchase you have to follow these steps.
On your paired iPhone or iPad open Settings and go to Bluetooth option.
From there find your AirPods Pro from the list of Bluetooth devices and tap on 'i' button.
Scroll all the way down and tap on AppleCare+ Coverage Available option. If you don't have this option, then you have probably ran out of 60 days for adding coverage.
On the next screen tap on Continue option.
Now tap on Add AppleCare+ Coverage option and make payment.
In addition to adding AppleCare+ from iPhone or iPad you can also do it online through Apple's online website, at Apple Store or by calling 800-275-2273. When you are adding AppleCare+ at the Store or by calling you will need to provide proof or purchase.
There you go folks, this is how you can add AppleCare+ to your AirPods Pro. Do you think AppleCare+ is worth getting for AirPods? Share your thoughts in the comments below.