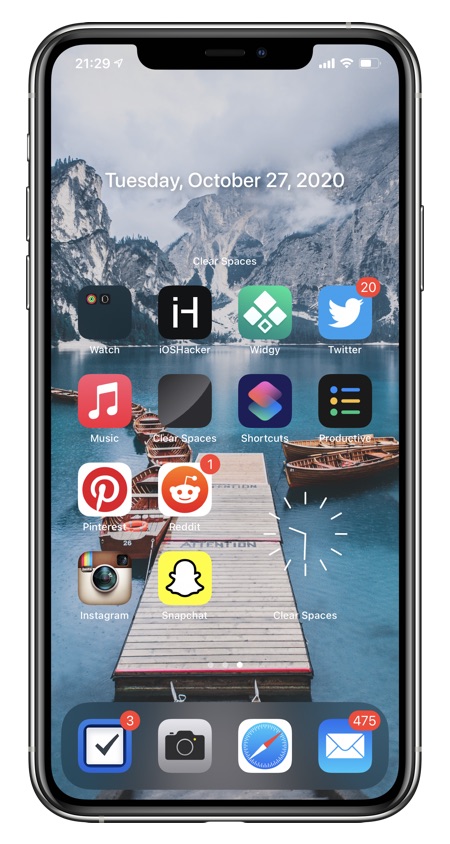 iOS 14 does not allow users to add transparent widgets to iPhone home screen. However if you want to create a unique and minimalistic home screen layout, we have got you covered.
In this step by step guide we will show you how you can use the Clear Spaces app from the App Store to add transparent widgets on the home screen.
Using this app you can add clear widgets of all three sizes including small, medium and large. This gives you full freedom for creating the perfect home screen layout.
In addition to adding clear widgets this app also lets you add useful information over the clear widgets.
Read on to learn more about this app and how to use it…
Add Transparent Widget To iPhone Home Screen
Follow these instructions to add transparent widgets to your iPhone's home screen. Please note that you need to be running iOS 14 or later on your iPhone or iPod touch for this tutorial to work.
Step 1: First of all download the Clear Spaces app from the App Store for $1.99.
Step 2: After downloading the app tap and hold on the home screen to enter wiggle mode.
Step 3: Scroll right to the empty home screen page and take a screenshot. Next enable the dark mode and then repeat step 1-3.
Step 4: Now launch the Clear Spaces app and tap on the Light Mode screenshot. Choose the light mode screenshot. Then tap on Dark mode screenshot and choose the dark mode screenshot.
Step 5: Tap on the Refresh all Widgets button located right below the screenshots section and exit the Clear Spaces app.
Step 6: Now tap and hold anywhere on the home screen to enter wiggle mode and tap on '+' button from top left corner.
Step 7: From the widgets screen look for Clear Spaces app and then add Small, Medium or Large widget to the home screen.
Step 8: Move it to the right spot on the home screen with drag and drop gesture. If the wallpaper is not aligned with the widget then long press on the widget and tap on Edit Widget.
Step 9: Choose the right Position and exit the Edit Widget menu.
Step 10: Repeat these steps for as many widgets you want to add.
In addition to letting users add transparent or clear widgets to iPhone home screen Clear Spaces app also features useful information options that you can place over your clear widget.
You can choose between Analog and Digital Clocks, Date, Custom Text etc. You can add information options by entering the Edit Widget mode and tapping on the Information Options button. Then from the next screen choose the information you want to show on your widget.
There you go folks this is how you can easily create transparent widgets for the home screen on iOS 14. If you have any questions regarding this tutorial, then feel free to let us know in the comments below.