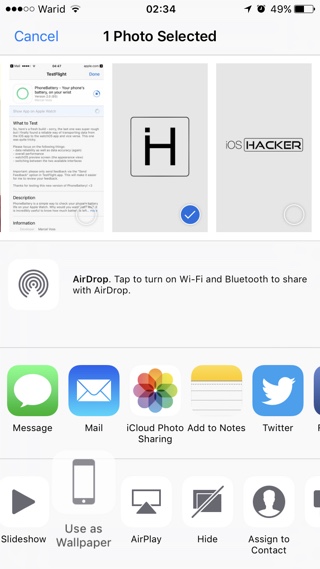 Sometimes the most obvious features can be hiding in plain sight. One such feature offered by iOS on its share menu allows users to rearrange the app icons known as activities and action buttons in the sharing menu. Whenever you access iOS Share menu, for example in the stock Photos app you see a bunch of options. A similar menu appears when you tap and hold on an image in Safari to save it, among other places. This share sheet displays a bunch of icons that can be rearranged.
Here's how to do it: To rearrange the icons or buttons all you have to do is tap and hold on the button you want to move and then move it in the direction you want to place it at. Once the icon is at your desired position just let go. You can do the rearranging in this manner for both app related actions as well as system actions like copy, use as wallpaper etc.
This feature is particularly useful in my case since I always hated to swipe on the action icon menu to access the Use as Wallpaper button. With this simple tip I placed the wallpaper button on the first spot, so it is always easily accessible whenever I need it.
Disclosure: iOSHacker may receive a commission if you purchase products through our affiliate links. For more visit our privacy policy page.