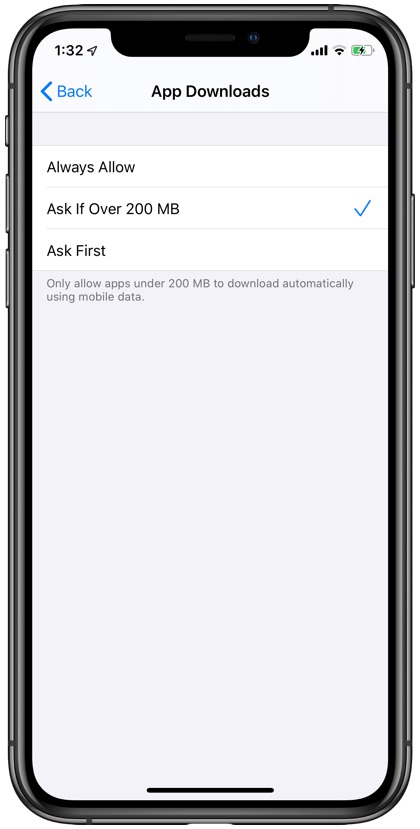 If you have ever tried to download an app from the App Store over cellular Internet, then you would know that iOS places a limit on the size of the app. Previously users were only allowed to download apps that were 150MB or smaller. Recently Apple has increased the limit to 200MB but users still complain that it is still too low considering many users out there either have unlimited data plans or plans big enough to allow larger app downloads.
With iOS 13 Apple has finally listened to its users, and has finally made it possible for users to remove download size limit on apps. This means you can now download apps that are way over the 200MB download size.
Apple's new app downloads implementation could not have been better as the company is giving users control over how they want to handle app downloads over Mobile Data on their devices. iPhone users now have the ability to choose if they want to always allow app downloads over Mobile Data without size restrictions, make the iPhone ask the user if download size of the app is over 200MB or set to Ask First, in which case iPhone will always confirm if the user wants to download an app over LTE.
Change App Downloads Setting for Mobile Data
You can change App Downloads settings for LTE by following the simple steps below.
Step 1: On your iPhone open Settings and go to iTunes & App Store.
Step 2: Now under Mobile Data look for App Downloads and tap on it.
Step 3: On the next page you will have the following options:
Always Allow: Apps will download without any warnings or restrictions.
Ask if Over 200MB: iPhone will ask user if he or she wants to continue in case app is larger than 200MB.
Ask First: iPhone will always confirm whether user wants to download an app over cellular Internet.
Step 4: Choose the option that suits you the best and return to the home screen.
While it is great that Apple has given users option to remove the app downloads limit for Mobile Data, it would have been even better if the company allowed users to set their own limits from the same page. For example, instead of removing the limit altogether users should be able to set a custom limit that suits their data plan.