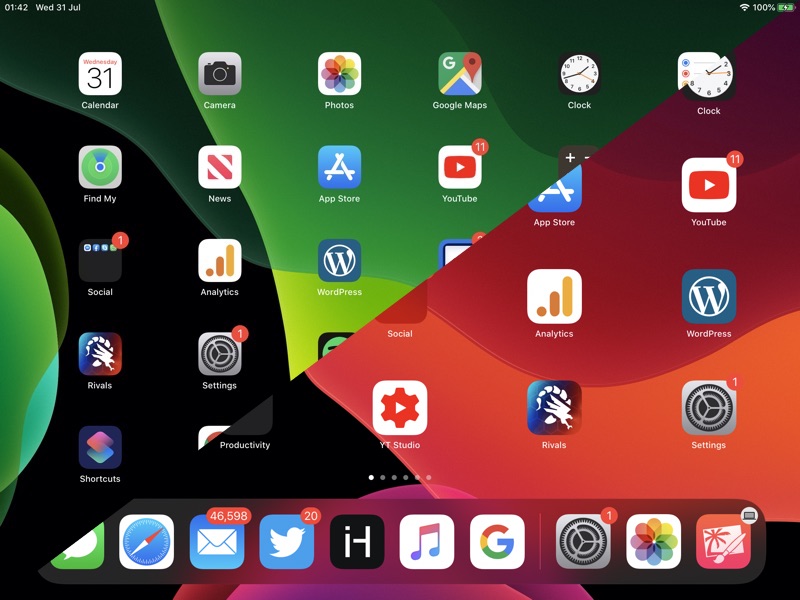 Among many new changes that have been introduced in iPadOS 13 users also get the ability to change the icon size and layout of their iPad's home screen. For the first time since iPad's launch users have the choice to reduce the size and spacing between home screen app icons, and as a result put more icons on a single home screen page.
While traditionally users were able to place 20 icons on a single home screen page, starting iPadOS that number will go up to 30 icons per page, which is a huge jump. 10 extra icons have been added to the home screen by reducing the space between the icons and significantly reducing each icon's size. By default iPadOS allows 30 icons on the home screen, however users can also switch to the old layout and have larger icons.
Good thing about iPadOS's new home screen icon size options is that it gives users choice over which look they prefer for their device. So users can choose to have larger icons with more spacing like before, or increase the total number of icons on each home screen page by reducing icon size and space between icons.
How To Resize Home Screen Icons On iPadOS 13
You can choose between the two options by following the simple steps below.
1. On your iPad that is running iPadOS 13 or later launch Settings.
2. Now tap on 'Display & Brightness' option.
3. Once you are on the Display & Brightness settings page, scroll down and look under 'App Icon Size' option.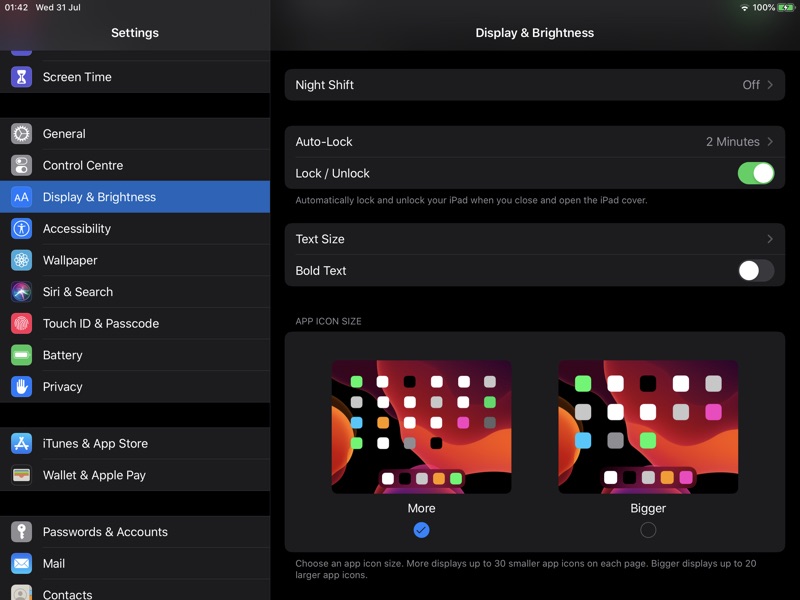 To have 30 smaller icons on each home screen select 'More' option.
To have 20 large icons on the home screen choose the 'Bigger' option.
That's it, this is how you can change the home screen icon layout on iPadOS and change the number of app icons that appear on each page.
While I am happy that Apple has given users some choice over how app icons are displayed on the home screen, personally speaking I would have preferred to have more layout options and ability to make the icons even smaller, with even less spacing in between. Even with the 'More' setting selected there's still more room on the home screen that can be utilized to add more icons on the home screen, especially on larger iPad models including iPad Pro 12.9-inch.
I would have also liked it more if Apple had allowed users to have empty spaces in between icons, and place icons on the screen in custom layouts rather than forcing just 2 fixed layouts on them.