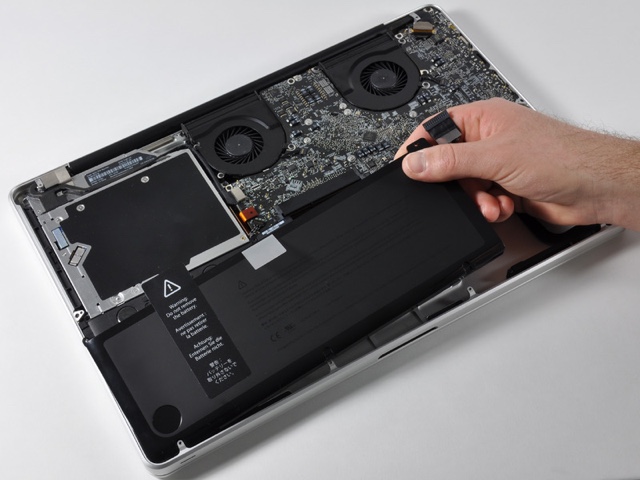 If you own a Macbook, then one thing that you should be concerned about is the health of its battery. When you buy a new Macbook its battery performs is at its best, however the performance starts to deteriorate when you pass the maximum number of charge cycles. A charge cycle happens when you use all of your battery's maximum power after charging it. For example, if you fully charge the battery to 100 percent and use it until it runs out, that would count as one charge cycle. What happens when you recharge it to full right when it reaches 50%? In that case a full charge cycle will happen when the battery is down to 50 percent again.
All Macbooks just like all other portable gadgets with lithium ion batteries have limited charge cycles. Each model's battery depending on when it was released has its own maximum charge cycle count. Once that charge cycle number is reached batteries are considered to be consumed. At this point it is recommended that you replace the battery.
How to check charge cycles for my Mac?
If you don't know the current charge cycle status of your Macbook, then you can find out by following the simple steps below.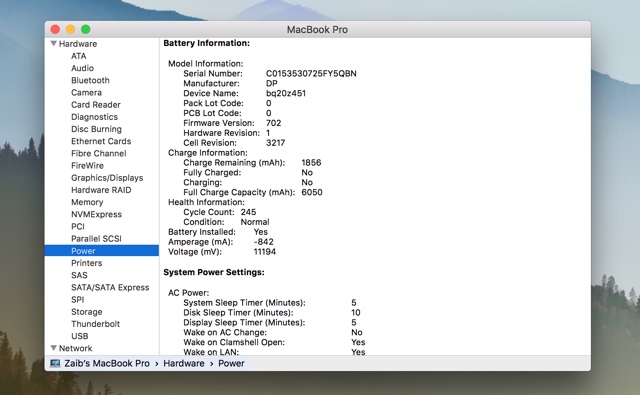 Hold the Option key from the keyboard and click on the 'Apple logo' button from the menu bar.
From top of the menu click on the 'System Information…' and then from the side pane on 'Power' option.
Finally under 'Battery Condition' look for 'Health Information'.
Here your Mac will show the condition of your battery as well as the cycle count.
Now that you know what the charge cycle count for your Macbook's battery is, it is a good idea to compare the number with the maximum cycle count limit for your device's model as recommended by Apple.
Below you can find the Cycle count limits for various Macbook models.
1000 Cycle counts limit
Models listed below have batteries that offer 1000 cycle counts:
MacBook (Retina, 12-inch, Early 2016)
MacBook (Retina, 12-inch, Early 2015)
MacBook (13-inch, Mid 2010)
MacBook (13-inch, Late 2009)
MacBook Pro (Retina, 13-inch, Early 2015)
MacBook Pro (Retina, 13-inch, Mid 2014)
MacBook Pro (Retina, 13-inch, Late 2013)
MacBook Pro (Retina, 13-inch, Early 2013)
MacBook Pro (Retina, 13-inch, Late 2012)
MacBook Pro (13-inch, Mid 2012)
MacBook Pro (13-inch, Late 2011)
MacBook Pro (13-inch, Early 2011)
MacBook Pro (13-inch, Mid 2010)
MacBook Pro (13-inch, Mid 2009)
MacBook Pro (Retina, 15-inch, Mid 2015)
MacBook Pro (Retina, 15-inch, Mid 2014)
MacBook Pro (Retina, 15-inch, Late 2013)
MacBook Pro (Retina, 15-inch, Early 2013)
MacBook Pro (Retina, Mid 2012)
MacBook Pro (15-inch, Mid 2012)
MacBook Pro (15-inch, Late 2011)
MacBook Pro (15-inch, Early 2011)
MacBook Pro (15-inch, Mid 2010)
MacBook Pro (15-inch, 2.53 GHz, Mid 2009)
MacBook Pro (15-inch Mid 2009)
MacBook Pro (17-inch, Late 2011)
MacBook Pro (17-inch, Early 2011)
MacBook Pro (17-inch, Mid 2010)
MacBook Pro (17-inch, Mid 2009)
MacBook Pro (17-inch, Early 2009)
MacBook Air (11-inch, Early 2015)
MacBook Air (11-inch, Early 2014)
MacBook Air (11-inch, Mid 2013)
MacBook Air (11-inch, Mid 2012)
MacBook Air (11-inch, Mid 2011)
MacBook Air (11-inch, Late 2010)
MacBook Air (13-inch, Early 2015)
MacBook Air (13-inch, Early 2014)
MacBook Air (13-inch, Mid 2013)
MacBook Air (13-inch, Mid 2012)
MacBook Air (13-inch, Mid 2011)
MacBook Air (13-inch, Late 2010)
500 Cycle count limit
Models listed below have batteries that offer 500 cycle counts:
MacBook Air (Mid 2009)
MacBook (13-inch Aluminum, Late 2008)
MacBook Pro (15-inch Late 2008)
300 Cycle count limit
Models listed below have batteries that offer 300 cycle counts:
MacBook (Mid 2009)
MacBook (Early 2009)
MacBook (Late 2008)
MacBook (Early 2008)
MacBook (Late 2007)
MacBook (Mid 2007)
MacBook (Late 2006)
MacBook (13-inch)
MacBook Pro (15-inch, Early 2008)
MacBook Pro (15-inch, 2.4/2.2GHz)
MacBook Pro (15-inch, Core 2 Duo)
MacBook Pro (15-inch Glossy)
MacBook Pro (15-inch)
MacBook Pro (17-inch, Late 2008)
MacBook Pro (17-inch, Early 2008)
MacBook Pro (17-inch, 2.4GHz)
MacBook Pro (17-inch Core 2 Duo)
MacBook Pro (17-inch)
MacBook Air (Late 2008)
MacBook Air
Disclosure: iOSHacker may receive a commission if you purchase products through our affiliate links. For more visit our privacy policy page.