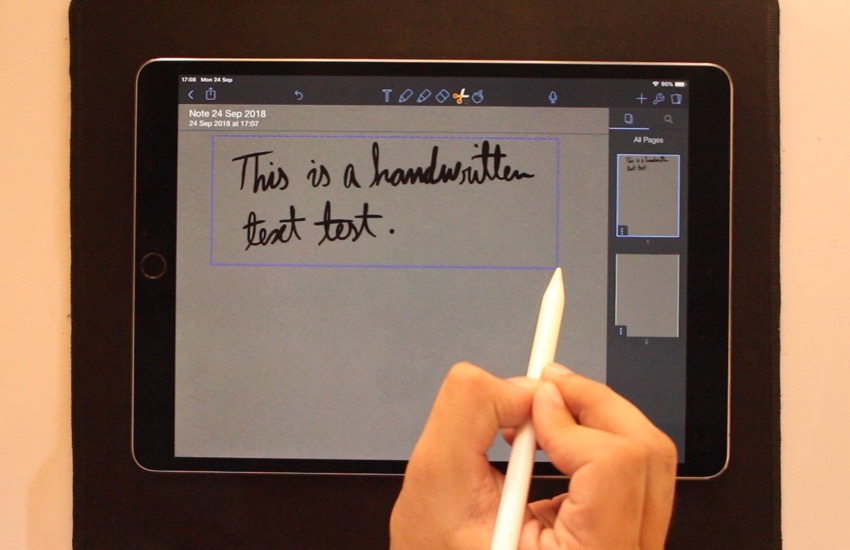 If you are like me and love to write on your iPad with your Apple Pencil, then we have got a fun tutorial for you. Handwriting on the iPad with Apple Pencil is great, however there's one problem with it. You cannot easily share the handwritten text with someone, or use the written text in any document. This can be annoying as then you have to manually type the handwritten text in order to convert it into digital.
That's where the best iPad app for turning handwritten notes into type text comes in. Good news is you can convert handwritten text into digital text right on your iPad using a free third-party app called Notability.
Notability is a full-fledge Note-taking app and offers tons of other features, however today we are only focusing on its ability to convert handwritten text into digital text or type text.
Once the handwritten text has been converted you can make changes to it, copy it to clipboard to share somewhere else or perform styling on it. Read on to learn how you can convert Apple Pencil handwritten text into digital type text on iPad Pro and iPad 2020.
Notability app used to be available as a free download and its handwriting conversion feature was also free at that time. However recently developers have made the app paid and it not costs $8.99 in the App Store. While the price may seem steep the app makes up for it with its amazing features and easy to use interface.
If you are someone who takes a lot of notes on his or her iPad Pro, then it is a best notes app for you.
Convert Handwritten Apple Pencil Text Into Digital Text with Notability
We also have a cool video demonstration of Handwritten text into type text conversion feature offered by Notability.
Follow these simple instructions to convert your handwritten text into digital type text using Notability app.
1. Download Notability app for $8.99 on your iPad here.
2. Launch the app and create a new note.
3. Tap on the Pencil button and start writing with your Apple Pencil.
4. Once done, tap on the Scissor icon and drag around the text you just wrote.
5. Tap on the selected area and from the popup menu tap on 'Convert to Text' option.
6. Check the preview, make changes if there are any errors and tap on 'Convert Selection' button.
That's it! Your Apple Pencil Handwritten note has now been converted to digital text and now you can copy it anywhere you like.
If you aren't already, then do consider subscribing to our Youtube channel as we post more videos like this one on a more regular basis.