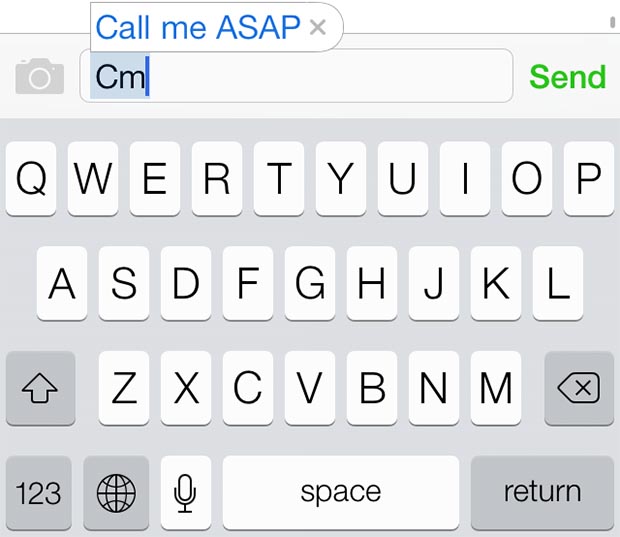 Many of you might not be aware of a great keyboard feature of iOS using which iPhone, iPad and iPod touch users can enter phrases quickly without having to type the whole thing. Whether they are sending an email or a text message they could simply enter the shortcut to make iOS write the phrase for them automatically.
How this works is pretty simple, users can assign shortcuts to their frequently used phrases. For example they can set 'omw' as a shortcut for 'On my Way'. After they have assigned a shortcut to a phrase whenever they will enter that particular set of letters iOS will instantly replace it with the corresponding phrase. The whole process is very much similar to how iOS replaces words when autocorrect mode is turned on.
So what happens when a user wants to enter the same word he or she is using as a word in the message. For example as you can see in the screenshot below I have used 'rust' as a shortcut for 'Are you still there?' but what if I want to use the word rust in my message. That is simple too, all I have to do is instead of hitting space button I can tap on the small 'x' button located on the preview pop up to tell iPhone that I don't want to replace this word with the pre-assigned phrase.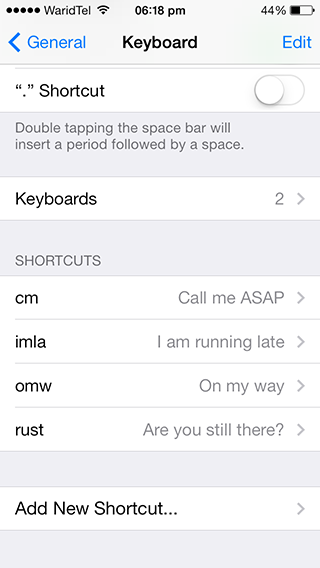 How to add a keyboard shortcut for any phrase?
To add a shortcut for your most used phrase follow the steps below.
Open Settings and then tap on 'General'. Now look for the 'Keyboard' option.
On the menu for 'Keyboard' you will find 'Shortcuts'. This is where you can add, delete or edit shortcuts for keyboard.
Tap on 'Add New Shortcut' option and on the next page enter the phrase with shortcut of your choice.
That's it!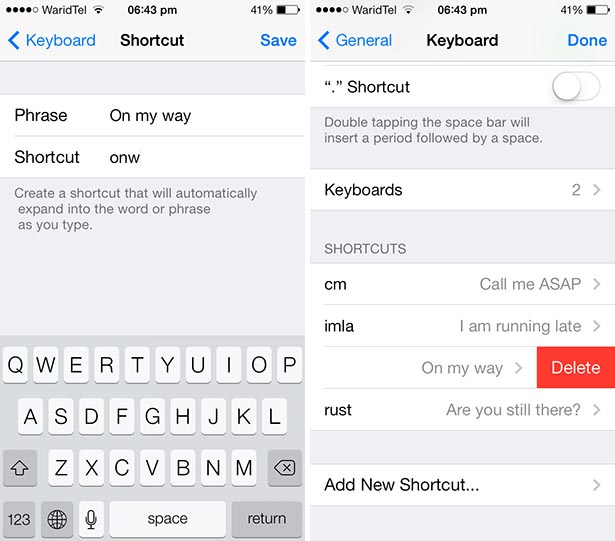 Editing or deleting shortcuts and phrases is very simple too. You can swipe to delete a shortcut or tap on it to edit its shortcut or phrase.
Once you have added the right shortcuts for your most used phrase this feature can make your life much easier. This will not only help in reducing effort of typing and saving time but it will also allow you to instantly enter small phrases such as 'I am running late' or 'On my way' while you are doing something such as stopped at traffic signal or doing some other work. But even with its usefulness this feature will take some time to getting used to and remembering the shortcuts could be tricky at first. Once you get hold of it you will never go back.
Disclosure: iOSHacker may receive a commission if you purchase products through our affiliate links. For more visit our privacy policy page.