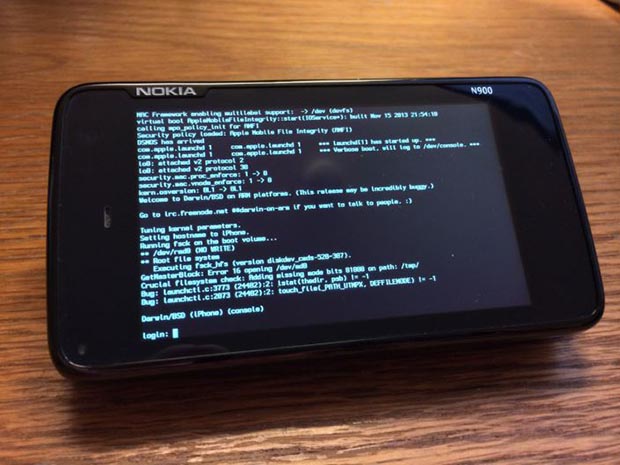 iOS is a closed source operating system that cannot be installed on devices by manufacturers other than Apple. The company just like its OS X software does not licenses iOS and most probably it never will. But a group of developers had been working on an open source project to port iOS to non-Apple hardware. Now it seems like they have been able to achieve a breakthrough.
iOS Hacker and software developer Winocm who was also a part of this open source project has been able to port the core elements of iOS to non-Apple hardware. What he has been able to achieve is that he has ported the 'XNU Kernel' to a Nokia N900 device as seen in the image above. The XNU Kernel has been around for over a decade now and is the foundation of both OS X and iOS softwares. According to a blogpost on his blog he used iPhone OS 4.3.5 for this task and it is currently limited to ARM boards only.
While it is a significant achievement this progress does not mean you will be able to install iOS on a non-Apple device anytime soon. This port only features the core elements of iOS however the user-interface elements cannot run on the alien hardware as of right now.
Along with from Nokia N900 smartphone Winocm has also shared that this port is working on following hardware.
ARM RealView Emulation Baseboard (ARMPBA8_ALT)
ARM RealView Platform Baseboard for Cortex-A8 (ARMPBA8)
Texas Instruments OMAP3530 (BeagleBoard/BeagleBoard xM) (OMAP3530)
Texas Instruments OMAP3430 (Nokia N900) (OMAP3430_RX51)
Texas Instruments AM335x (BeagleBone/BeagleBone Black) (OMAP335X)
With this port the dream of running iOS on devices designed by companies other than Apple has come closer to reality but there is still a long way to go. Now next step for the participants of this open source project would be to add the user-interface of iOS so a fully usable port could be achieved.
Interested in taking a look at the work behind this port? Check it out at Github here.
[
Source
via 
9to5Mac
]
Disclosure: iOSHacker may receive a commission if you purchase products through our affiliate links. For more visit our privacy policy page.