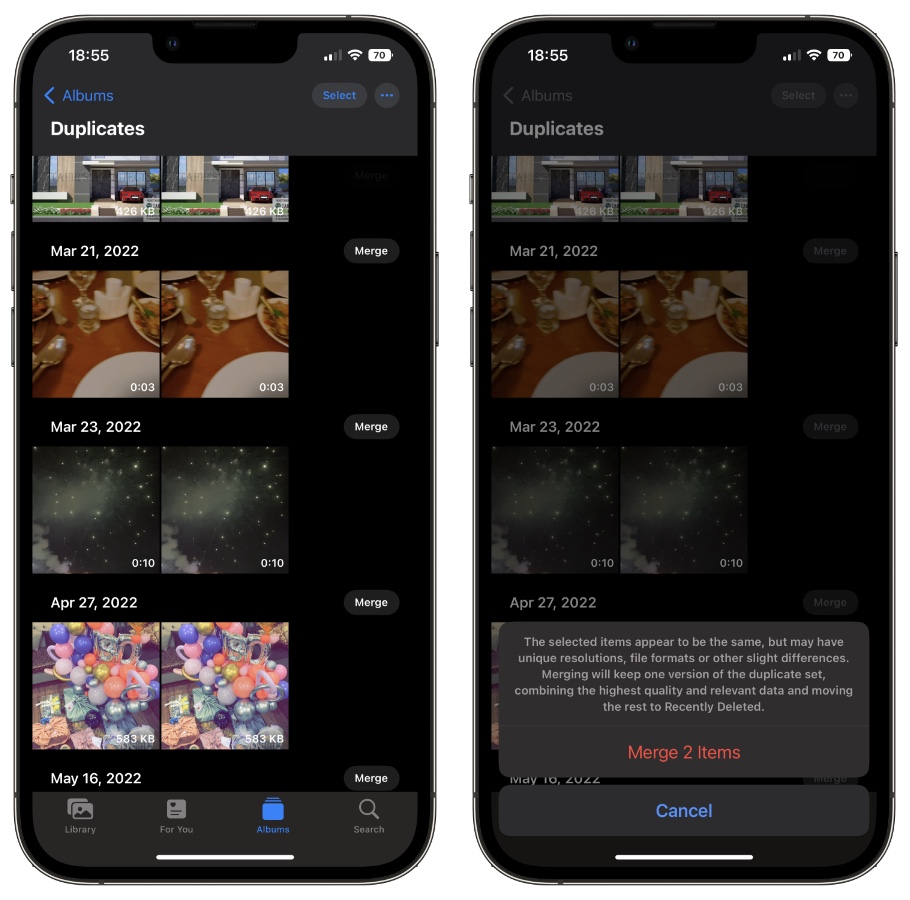 Do you have duplicate photos problem on your iPhone? Turns out you are not alone as this is a common problem we all face. Duplicate photos aren't the only thing that sit your Photos library adding to clutter and taking up that precious non-expandable iPhone storage. Screenshots, photos of receipts, web images etc also make user's life difficult.
Apple knows all this, that is why it has introduced a new delete duplicate photos and videos feature in iOS 16 update. This new feature adds a new section in the Photos app called 'Duplicate Photos'. In that folder you can see all of the photos and videos that have one or more copies in your device.
The best part about the Duplicate Photos feature is that it also enables users to quickly delete duplicate photos on iPhone in just a few taps.
Delete Duplicate Photos and Videos on iPhone
If you are looking for the easy way to delete duplicate photos on iPhone in Photos app, then follow the steps below.
Step 1. Launch the Photos app and go to the Albums tab from the bottom bar.
Step 2. Scroll down and under Utilities heading find and tap on Duplicates.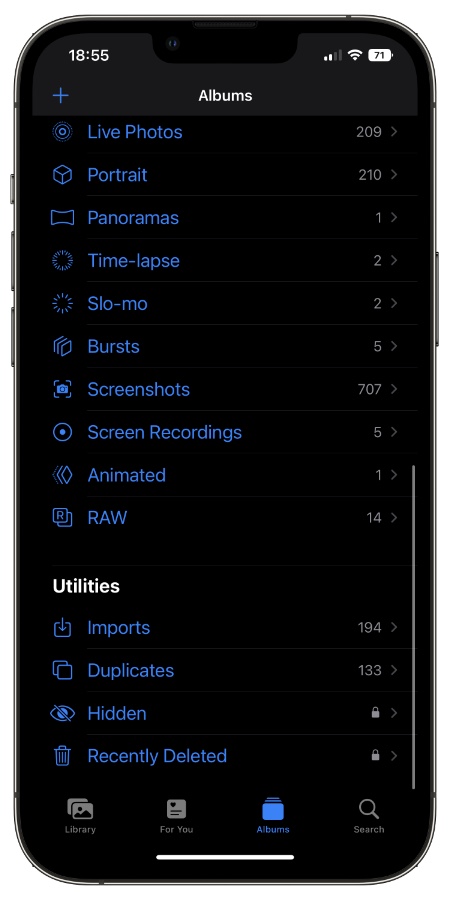 Step 3. On the next screen you will be able to see all of the photos that have duplicates. You can tap on 'Merge' option next to the photos in order to merge the duplicates and essentially delete the duplicates.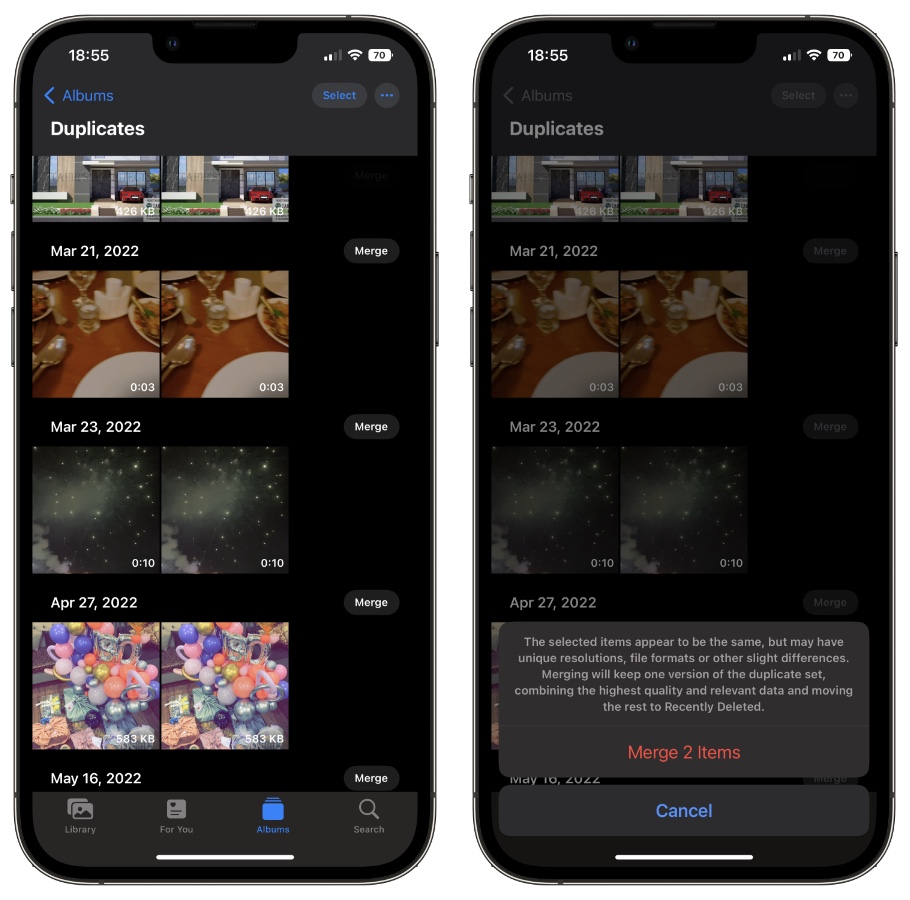 Step 4. You can also tap on 'Select' button from the top right corner of the screen and quickly select multiple or all duplicate photos and then tap on Merge to merge all multiple duplicates at once.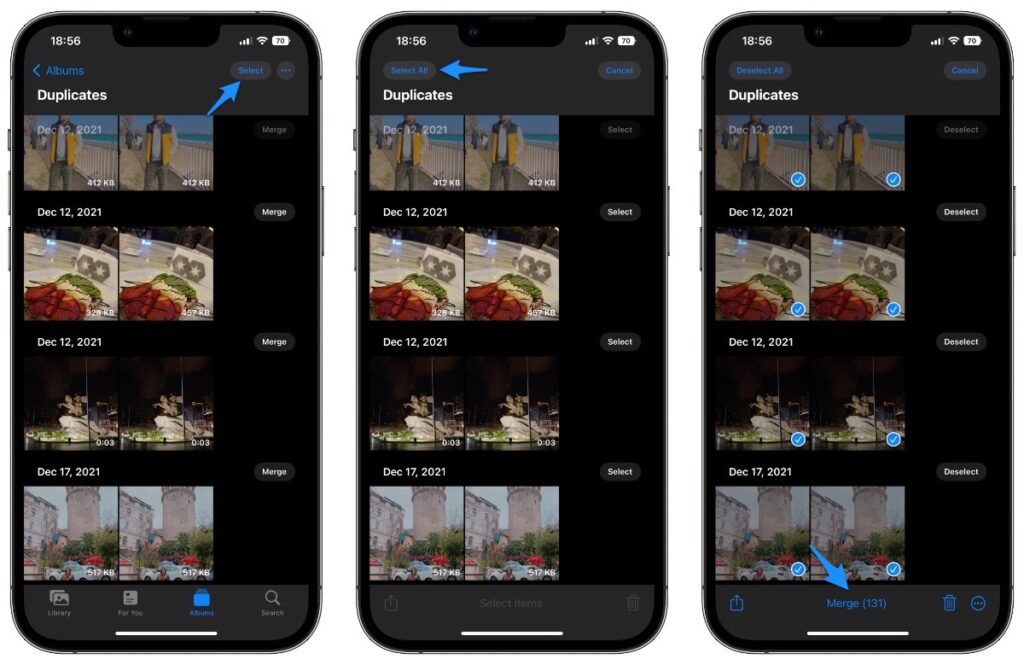 The ability to easily delete duplicate photos on iPhone is not just great for removing clutter but it is also an amazing space saving feature considering most users have thousands of photos on their iPhone's photo library.
The Duplicates folder even displays the size of the images, which gives users an idea on how much storage space they will be saving my merging each photo.
Merging photos combines relevant data in the images that includes captions, keywords and favorites into one photo. iOS saves the photo that has the highest quality of the two.
Along with ability to delete duplicate photos more easily, iOS 16 also introduced a new Batch Edit feature that enables users to batch edit photos on iPhone more easily.