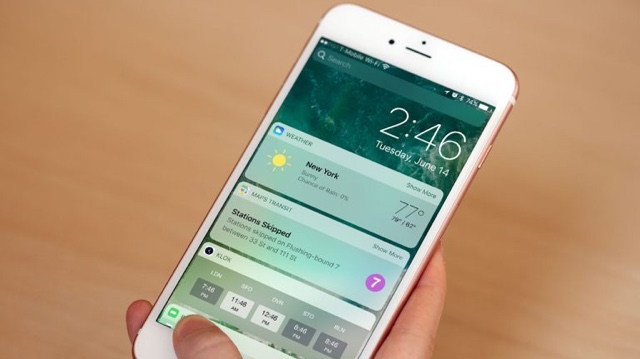 Apple has completely changed how lockscreen works on iOS. Now instead of slide to unlock you have to press the home button to unlock the device and you can swipe right or left to access the new widgets or camera screens respectively. One lockscreen function that many users love is the Raise to Wake feature, that wakes the device's screen when you pick up your iPhone. This is a great solution for viewing notifications and accessing the widgets or camera without pressing any buttons.
Another benefit of Raise to Wake is for users of iPhone 6s and 6s Plus, which feature super fast second generation Touch ID sensors. With these new models many users complained that their home screen fingerprint scanner is so quick that whenever they press the button to wake their screen to view the pending notifications, their iPhone gets unlocked instead. Apple has solved this with Raise to Wake and press to unlock.
However many iOS 10 users don't like Raise to Wake feature for various reasons. If you miss the super speediness of the Touch ID button and want to unlock the device with single press of a button and without any delay, then turning off Raise to wake option will help too. If you want to turn off the Raise to Wake function on your iPhone running iOS 10, then you can do so from Settings app. Follow the steps below to enable or disable raise to wake feature.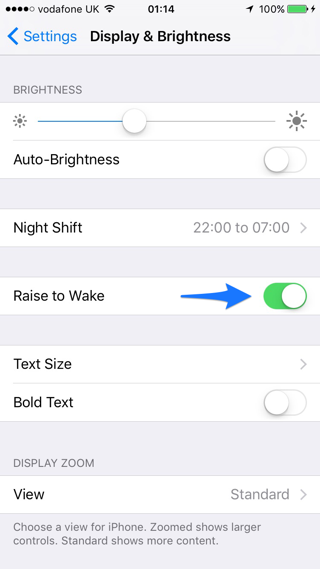 Disabling Raise to Wake on iOS 10
Open Settings app and scroll down to Display & Brightness option.
From the Display & Brightness page simply turn off the toggle next to 'Raise to Wake' to disable it. Alternatively, you can turn this feature back on by turning on the toggle back on.
Once you have turned off the option your iPhone's screen won't turn on when you raise it in front of you. You have to press the home or power buttons to turn the screen on.